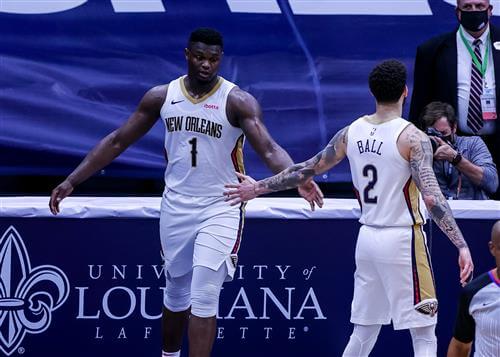 Zion Williamson wants to keep the New Orleans Pelicans' young core together even though Lonzo Ball is a restricted free agent this offseason.
"It'd be dope," Williamson said of Ball staying with the Pelicans and playing alongside him and Brandon Ingram, per Jacob Rude of USA Today's Lonzo Wire. "I think me, Brandon and Zo, the three of us, we have a great relationship. I really would want Zo to come back and he knows that. But like I said, the reality of the situation is, Zo's a grown man so he's going to make the decision that's best for him. The only thing I can say is I hope he stays."
Read More: NBA trade rumors: Updating potential summer blockbusters
While New Orleans struggled with consistency on the way to a 31-41 record, it had success when Williamson and Ball were on the court together.
According to NBA.com, lineups that featured the pair finished the season with a plus-3.8 net rating. Lineups featuring Ball and Ingram were a plus-2.4, and the Pelicans had a plus-4.3 net rating with all three on the floor together.