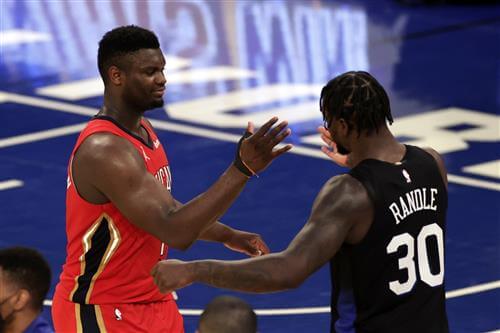 Pelicans superstar Zion Williamson had just suffered a tough overtime loss to the Knicks — the Pelicans' third straight. And the players were just chewed out by their head coach Stan Van Gundy for botching the final play of regulation while on defense.
But Williamson couldn't help but crack a broad smile that could light up Broadway when asked what it was like playing his first NBA game at the Garden. Last season, Williamson had knee issues for the preseason and regular-season Garden matchups.
Williamson finished with 34 points in the loss, slightly getting the better of Julius Randle in the battle of power-forward heavyweights.
"I'm glad you asked that,'' Williamson said, grinning. "New York is the mecca of basketball. I love playing here. I played here in college [at Duke]. This is my first time playing in the pros. This atmosphere, whether they're cheering for you or booing you, it's amazing. Outside of New Orleans, obviously, this might be my favorite place to play. I can't lie to you.''
Williamson is a restricted free agent in 2023. Though only 2,000 fans are allowed at the Garden during the pandemic, Williamson received a mixture of cheers and boos during intros.