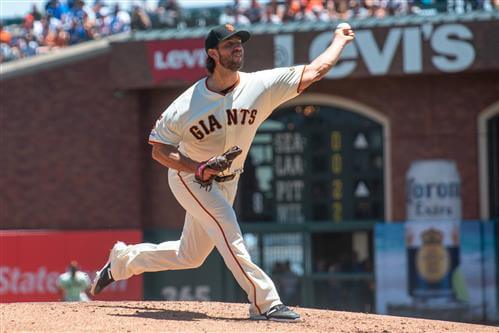 And we're back…
Yet again, we're here talking about which pitcher the Yankees should acquire at the July trade deadline. Last year it was J.A. Happ, and the year before it was Sonny Gray. Who will be the guy for the Bombers this time around?
There are a variety of interesting candidates who figure to be available, even more than years past. There are three candidates who Brian Cashman should have at the top of his list, and none of them are Madison Bumgarner.
MARCUS STROMAN
Stroman is the most intriguing candidate. He already plays in the AL East and he's also a local guy (from Long Island).
The 28-year-old is having a nice bounce-back campaign with the Blue Jays. He is 5-9 with a 3.18 ERA, striking out seven batters per nine innings while walking 2.8. However, his dazzling ERA isn't the most attractive feature that Stroman brings to the table.
The right-hander induces the most ground balls in the American League (57.5 percent ground ball percentage) and ranks in the top 15 for lowest fly ball percentage. Fly balls and Yankee Stadium tend to have a poor relationship, anyone who can force the ball on the ground with the Yanks star-studded infield would be crucial.
TREVOR BAUER
Bauer would be an intriguing fit in the Bronx and Cleveland figures to be sellers due to their current financial situation.
Bauer is 8-6 with a 3.61 ERA striking out 10.1 batters per nine innings. While the right-hander doesn't have a dominant sinker to induce grounders like Stroman, he does have a fastball in the mid-to-upper 90s and a devastating breaking ball that registers north of 2500 RPM (spin rate).
He's also obsessed with analytics, which is a major plus for the Yankees nowadays.
NOAH SYNDERGAARD
The final piece the Yankees should have atop their list comes close to home. Specifically, across town in Queens.