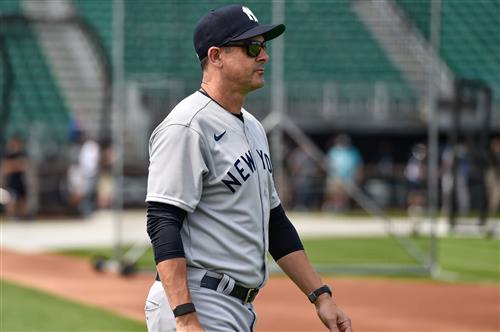 Aaron Boone heard the rumors all season. He knew fans were calling for his job and media members were questioning his decisions.
A 13-game winning streak and a trip to the AL Wild Card Game quieted the detractors for a little while, but when the New York Yankees were unceremoniously eliminated by the Boston Red Sox at Fenway Park, the volume was turned up on those rumors.
The one thing that wasn't turned up was the heat on Boone's seat. Tuesday morning, the club announced a new three-year contract for Boone with a club option for a fourth season.
"The reality is, I know the rumors and everything that were out there but they were only that," Boone said in a Zoom press conference. "I've never stopped being under contract with the Yankees. Myself, my agent and my family have treated it as such. It was about walking through the process and the negotiations of getting me back to extend this."
It was an unpopular decision for the fans, who wanted him gone months ago and expected him to be gone as soon as the final was recorded in Boston. The Yankees parted ways with key members of Boone's staff last week, declining to renew the contracts of hitting coach Marcus Thames, assistant hitting coach P.J. Pilittere and third base coach Phil Nevin, a close friend of Boone's.
"That was a couple of tough days for me," Boone acknowledged. "I even talked to Phil about coming back. Those are tough conversations you have. But that is the difficulty of this business."
If that's the case, why would Boone want to work for a team that doesn't let him make his own staffing decisions? It's clear he wants to finish what he started in New York. He did not give the team an ultimatum with Nevin.