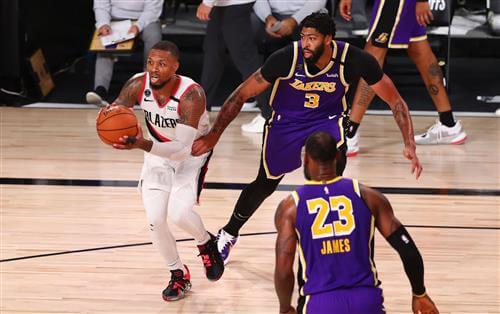 Some are calling for a major shake-up for the Los Angeles Lakers this offseason. During a recent episode of ESPN NBA Countdown, two former players, Jalen Rose and Jay Williams, discussed a hypothetical trade scenario for the Lakers to explore. Williams posed a question to Rose on what he would prefer if he was LeBron James assuming the Lakers could swap Anthony Davis for Damian Lillard in a trade.
"You know we play these games, if you can give up A.D. for Dame, and you're LeBron James would you do it?" Williams asked.
Read More- The Perfect Plan For The Los Angeles Lakers This Summer
Rose admitted that he would "absolutely" trade Davis for Lillard if he were the Lakers. The longtime NBA swingman noted that he views Davis as a top-ten player but believes the big man should not be in the top-five conversation.
"So, with the queen Maria Taylor, we've sat at this table, and I've had to stop people from saying A.D. was a top-5 player," Rose responded. "[I've] said he is a top-10 player, that Dame was closer to being a top-five player. That was before this year. That was before the bubble, all of that, right? I'm taking Dame, no doubt about it. You call me, and you want to trade me Dame, right now? If you ain't going to give me Steph [Curry], give me Dame. Absolutely, you can take A.D."
There has been a lot of speculation about Lillard's future, most of which has been jump-started by a cryptic social media message the guard posted after the Blazers lost to the Nuggets in the first round.