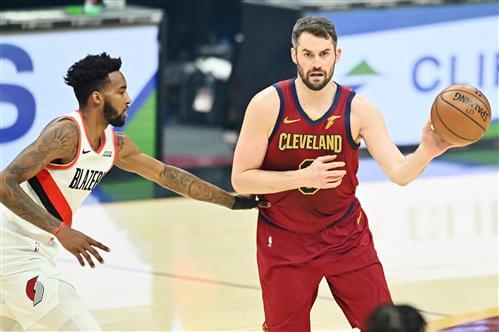 The Portland Trail Blazers could potentially find themselves at a turning point this summer as it relates to star guard Damian Lillard.
Fresh off firing longtime head coach Terry Stotts and with the unpopular decision to hire Chauncey Billups to replace him, things are coming to a head in the Pacific Northwest.
Embattled general manager Neil Olshey must use his limited resources to find a better supporting cast behind Dame. In the past, rumors have suggested C.J. McCollum could be used as bait to appease Mr. Lillard.
Now comes this piece of information from Sam Amico of Hoops Wire suggesting that the Portland Trail Blazers are one of five teams being linked to Cleveland Cavaliers All-Star big man Kevin Love.
"Per sources, potential Love suitors include the Pelicans, 76ers, Heat, Clippers and Trail Blazers. It is believed Love is hoping to move on from the Cavs, but no trade requests have been made and sources say there's no reason to believe a request is forthcoming," Amico reported.
The question here becomes whether acquiring the aging and injury-plagued Kevin Love in a trade with Cleveland would be enough. We look at that question below.
Portland Trail Blazers could acquire Kevin Love on the cheap
Set to receive north of $60 million over the next two seasons, Love is not necessarily a valuable commodity on the trade block. This is magnified by the fact that he has not played in as much as 70 games since the 2015-16 season.
This past year saw the five-time All-Star average a mere 12.2 points and 7.4 rebounds on 41% shooting from the field in 25 games. Again, this suggests Portland could nab him on the cheap. In fact, Cleveland might have to give up some young assets or draft picks in order to make this work.