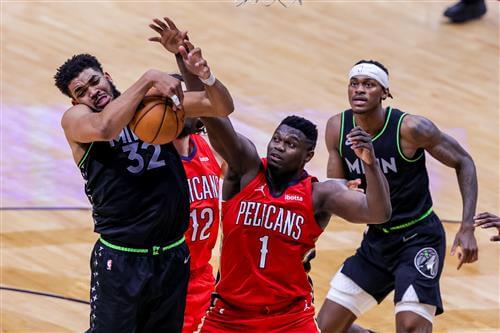 Is there a more enigmatic player in the NBA than Zion Williamson?
When he entered the league, he was widely expected to revolutionize it. It might be fair to say we've never seen a player with his exact combination of size, power, and vertical leap.
On the occasions he's been able to take to the court, he's lived up to the hype. Williamson is virtually guaranteed to give you 25 or more points on historic efficiency on any given night.
Unfortunately, those occasions have been few and far between. Williamson has spent more time on the injury list than on the basketball floor throughout his career.
On the other hand, there is no mystery surrounding Karl-Anthony Towns. The Minnesota Timberwolves always know what they're getting from him. He's one of the best shooting big men of all time, and one of the best offensive centers in the NBA. He's also a defensive liability.
Could the Pelicans and Timberwolves trade incredibly talented, yet flawed superstars this summer?