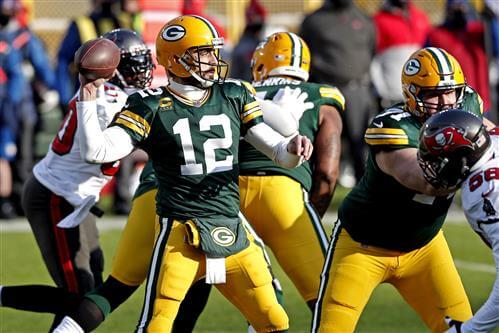 Despite all of the confidence the Las Vegas Raiders have shown in Derek Carr this offseason, the team continues to get mentioned in quarterback trade rumors. Aaron Rodgers' issues with the Green Bay Packers remain unresolved, which means it's possible that he gets traded. Considering the fact he listed the Raiders as one of the few teams he'd play for, they will likely remain linked to him until the situation is resolved.
It appears that ship has sailed for Las Vegas as they have yet to show any interest in Rodgers. However, that hasn't stopped speculation. Chris Roling of Bleacher Report believes the Raiders should send Green Bay a 2022 1st-Round Pick, 2022 Second-Round Pick and 2023 1st-Round pick for the reigning MVP:
Read More - Finding Homes for Under-the-Radar NFL Free Agents Before 2021 Season
Carr wasn't even bad last year, completing 67.3 percent of his passes with 27 touchdowns and nine interceptions. But it's a non-starter when comparing him to the MVP Rodgers—he's maybe the one passer the Raiders should sell the proverbial farm to obtain.