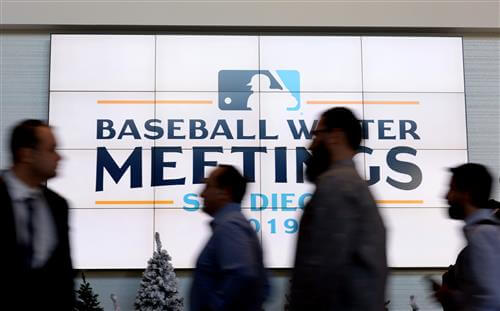 Major League Baseball and the players' union, the Major League Baseball Players Association (MLBPA), are presently negotiating the parameters of what a 2020 season will look like, should such a thing be realized.
A number of essential issues must be agreed upon before baseball moves forward -- roster rules, safety protocols in response to COVID-19, and the schedule and postseason format among them. Most pressing and most fraught, however, are the economic issues.
To quickly recap, players back in March agreed to prorate their 2020 salaries based on the number of games played. Given that something like an 82-game season is the probable path, that's a salary cut of roughly 50 percent. The MLBPA is of the position that the matter of compensation was put to rest with that agreement. Owners, however, interpret the agreement as allowing them to reopen negotiations in the event that fans will not be allowed to attend games for some or all of the season. That's going to be the case, which is why the two sides are now in talks. Owners floated a 50-50 revenue split, but players quite understandably objected. Players then floated the idea of deferring part of the salaries due, while owners proposed some salary reductions that would hit the highest-paid players the hardest. The union took umbrage at that revised proposal, and here we are in the current state of uncertainty.
There's still time to reach an accord and begin a 2020 regular season in early July as both sides hope (assuming the pandemic cooperates), but things don't seem to be going all that well. To be sure, what we know about the back and forth is mostly thanks to calculated leaks from the ownership side, which is an effort to turn public opinion against the players and use that as a cudgel. While the idiocy of souring the public on the product you hope to resume selling them is obvious, portraying players as greedy and disloyal has been a self-defeating indulgence on the part of MLB owners since time immemorial. This recent unearthing of that "strategy" hints at the tensions between the two sides.