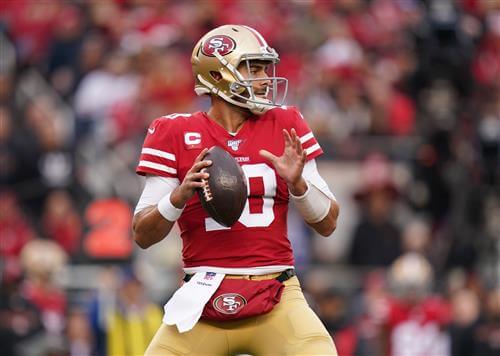 In an offseason of potentially historic quarterback movement, can the San Francisco 49ers afford to stick it out one more year with Jimmy Garoppolo?
Based on his past, cost and long-term outlook, the answer is a simple no.
Garoppolo boasts the NFL's fifth-largest quarterback contract at five years and $137.5 million, and his $27.5 million average annual value is just outside the top 10. That wouldn't be so bad if the 29-year-old were reliable.
Of course, Jimmy G has been anything but since the New England Patriots took him in the second round of the 2014 draft. In 2016, he suffered a separated shoulder in Week 2 while filling in for a suspended Tom Brady. In 2018, he tore his ACL in the third game, and in 2019 he sprained an ankle in Week 2 before suffering another one in Week 8.
In sum, Garoppolo has appeared in six, three, 16 and six games since joining the 49ers in 2017. Granted, those six games from 2017 came after a trade from New England, but that's a whole lot of cash invested in a quarterback who can't stay on the field.
The fact that the 49ers could wiggle out of his team-leading $26.4 million salary-cap hit with only $2.8 million in dead money this season has to be appealing—and the contract was structured that way for a reason.