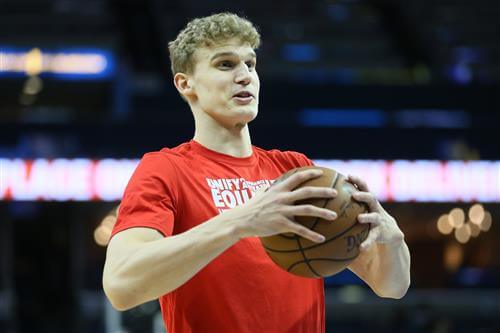 When the Chicago Bulls traded for Nikola Vucevic before the trade deadline a couple weeks ago, it signaled that this franchise is all-in on building around Zach LaVine for its future. After all, a team doesn't trade for a 30-year-old, two-time All-Star if they don't want to win soon. LaVine is set to become an unrestricted free agent after the 2021-22 season, and Chicago will need to do everything it can to build a winner between now and then to convince him to stay with the Bulls.
First steps on that mission to re-sign LaVine were taken at the trade deadline, when the Bulls executed moves that involved parting ways with five players, many of whom were drafted in the last five years by Chicago. It showed the new front office is chomping at the bit to put wins on the board after several years of losing and continuously rebuilding.
Going forward, a core centered around Vucevic and LaVine may be enough to make the playoffs in the Eastern Conference. However, the elephant in the room is where Lauri Markkanen's fits in all this. There were reports leading up to the deadline of the Bulls listening on trade offers for Markkanan, and at one point he was reported to be included on a deal that would've brought Lonzo Ball to Chicago. None of that materialized, though, and he remains with the franchise -- but for how much longer?
Markkanen was demoted to the bench in favor of Vucevic and Thaddeus Young, and although head coach Billy Donovan said he took the demotion "great," Markkanen said after that game multiple times, "I know I'm a starter in this league." Entering this season, the former No. 7 overall pick took a gamble on himself when he and the Bulls were unable to agree on a contract extension. It feels as though everything is heading toward Markkanen and the Bulls parting ways this summer when he becomes a restricted free agent, which could be a good thing for other teams around the league.