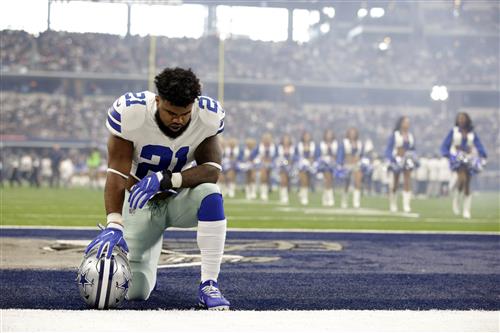 Ezekiel Elliott's holdout from the Dallas Cowboys has generated plenty of buzz. Under his current deal, he would make just under $3.9 million in 2019 and then the Cowboys would surely pick up his option year and pay him a little over $9 million in 2020, when Elliott will be 26 in training camp.
No one should blame Elliott for holding out. The way the current collective bargaining agreement is set up, it is difficult for running backs (because of their short shelf life) to get a big-money second contract. By taking this stand as a 24-year-old foundational player, Elliott aims to get the money he deserves and still presumably have plenty of strong years ahead of him.
What is Elliott as a player? He's great. But let's dig deeper.
From just a pure rushing perspective, Elliott is the best ball-carrier in the NFL. His production is amazing: 101.2 rushing yards per game and a 4.7-yards-per-carry average. He has 28 rushing touchdowns in 40 career games.
Elliott has supreme balance and great vision, a truly rare combination, especially when you couple it with his burst to attack a hole. He also shows patience and the ability to set up his blocks well as well as power and speed. As importantly as any of these traits, much like Emmitt Smith before him in Dallas, Elliott wants the ball and has the body and mindset to handle massive workloads.
Coming out of Ohio State, Elliott was considered an excellent prospect in the passing game. He was a sturdy and accomplished pass protector and a dangerous receiving option who brought much more to the table as a route runner than just screens and dump-offs. But during his first two seasons in the NFL, Dallas didn't use him in the passing game near enough. Frankly, that was coaching malpractice.