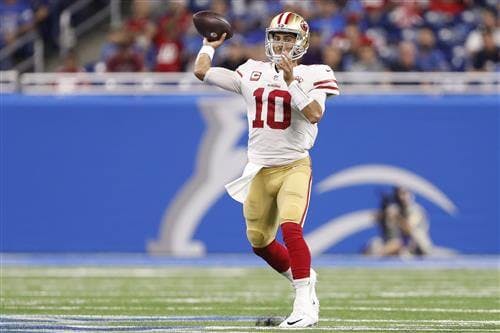 The Cleveland Browns have a problem. Inexplicably, it remains the same issue they've had for the better part of the last 20 years.
The Browns need a quarterback. Again.
It's astonishing, really, after totaling up the $60 million they're paying Deshaun Watson, Baker Mayfield and Jacoby Brissett this season. Of the three, Brissett is costing them the least, and yet he's the only one who will be on their active roster Week 1 against Mayfield and the Carolina Panthers.
Brissett, however, was only supposed to be an aspirin to relieve the brief headache of a Watson suspension to start the season.
Eleven games isn't a headache. It's a head wound.
It's time to go get Jimmy Garoppolo.
The Browns weren't interested in Garoppolo during the offseason. They didn't see him as much of an upgrade over Mayfield. But the game has changed since then.
When they signed Brissett, the Browns never expected Watson's suspension to span into December. One high-ranking team official said in March the team was "cautiously optimistic" that any suspension levied against Watson wouldn't bring down the season. A suspension in the sphere of the six games originally handed down by retired federal judge Sue Robinson last month was in line with what the Browns were anticipating.
They live in a different world today. In their risky attempt to upgrade the game's most important position, the Browns actually got worse — at least for the first two-thirds of the season while Watson serves his 11-game suspension for violations of the league's personal conduct policy.