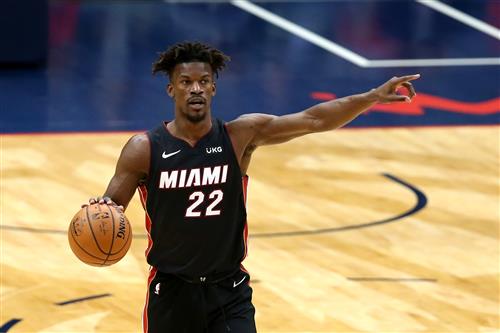 If the Los Angeles Lakers want to form a Big Three featuring LeBron James and Anthony Davis, general manager Rob Pelinka will have to get creative on the trade wires.
The Lakers only have five players guaranteed to be on the books for 2021-22, plus $5 million deferred for Luol Deng, the salary for the No. 22 overall pick ($2.4 million), and, should they choose to retain him, $1.9 million for Alfonzo McKinnie. All that adds up to $114 million — roughly $2 million over the projected cap.
Los Angeles can exceed the cap to bring back free agents Dennis Schroder (whom they traded a first-rounder for), Alex Caruso, and Talen Horton-Tucker via Bird rights, depending on Jeanie Buss's luxury tax elasticity.
Montrezl Harrell has a $9.7 million player option, which he may pick up after a subpar season. Markieff Morris, Wesley Matthews, and Jared Dudley are good bets to return for the minimum.
In other words: signing a needle-moving free agent — of which there are few available, anyway — is unrealistic. If Pelinka wants to upgrade the third banana spot, he'll have to talk another GM into a blockbuster, possibly via the ol' sign-and-trade.
If you take the Lakers at their word (I do), they believe they had a championship roster in 2020-21, and that better health could be enough to earn banner No. 18, if they largely ran it back. At exit interviews, Pelinka spoke passionately about keeping the "core" intact, specifically naming homegrown projects like Kuzma, THT, and Caruso to keep alongside LeBron and AD.
But every Lakers fan is currently jonesing for the next James Worthy while LeBron's title window is still open. James and Davis, who have input on personnel moves, might feel the same way. Simultaneously, the franchise will eventually need another foundational piece to buoy Davis when James moves on.
It will be exceedingly difficult for Pelinka to acquire a star, but you can never say never with Los Angeles, where agents are always trying to wriggle stars to. Historically, the Lakers make it happen.
That said, could any of the following stars be on the table for a move to the Lakers this summer?