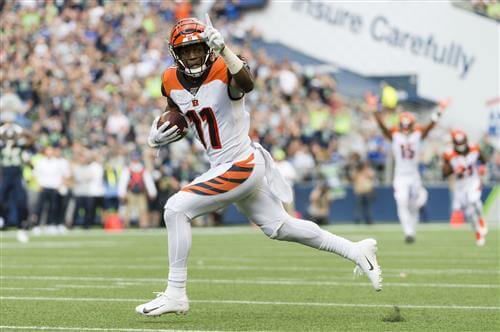 There have been a few notable years in coach Bill Belichick's two-decade tenure when the New England Patriots have spent big at the start of NFL free agency. Linebacker Rosevelt Colvin (2003), linebacker Adalius Thomas (2007) and cornerback Stephon Gilmore (2017) immediately come to mind.
It wouldn't be a surprise if 2021 is added to the mix, because the Patriots are in need of a talent infusion at wide receiver, tight end and defensive tackle and are third in projected salary-cap space ($62.2 million), per OverTheCap.com.
The next few days will reveal if any big-name pass-catchers -- such as Allen Robinson II (Chicago Bears), Chris Godwin (Tampa Bay Buccaneers), Kenny Golladay (Detroit Lions), Hunter Henry (Los Angeles Chargers) and Jonnu Smith (Tennessee Titans) -- hit the market without the restriction of the franchise tag.
So that's where things start for the Patriots.
At the same time, the majority of the team's free-agent shopping figures to be at moderate to lower levels.\
Teams can begin negotiating with agents of players on other teams starting March 15. Here are some players who caught my eye as those who could help fill top needs, with additional insight from ESPN NFL Nation reporters:
Nelson Agholor, WR (Las Vegas Raiders)
My take: The 6-foot, 198-pound Agholor, who was on last year's Patriots' fits list as well, turned in a solid 2020 season that showed he's more than a pure slot. He should command a mid-range market. His speed, position flexibility and winning mentality would fit well in a restocked receiving corps.
NFL Nation take: "Is it a true coming-out party if no fans are there to partake and said guest of honor does not crack 1,000 yards receiving? When it comes to Agholor, absolutely. True, he was a first-round pick by the Eagles in 2015, but he never lived up to that draft standing in Philadelphia. Signed to a one-year, $1,047,500 prove-it deal by Las Vegas, Agholor became quarterback Derek Carr's most efficient wideout with a career-high 896 yards receiving on 48 catches for a career-best 18.7 yard-per-catch average that ranked second in the NFL among pass-catchers who had at least 25 receptions.
"Sure, he still had the occasional drop, but Carr had a 100.5 passer rating when targeting Agholor, who also had 15 catches of at least 20 yards. His six TDs of at least 20 yards were the second-most in the league. Signed more for depth, Agholor became the Raiders' under-the-radar deep threat. And as Carr himself said late in the season, 'We've got to pay that man, and get him back.' But will Las Vegas pony up?" -- Paul Gutierrez, Raiders reporter