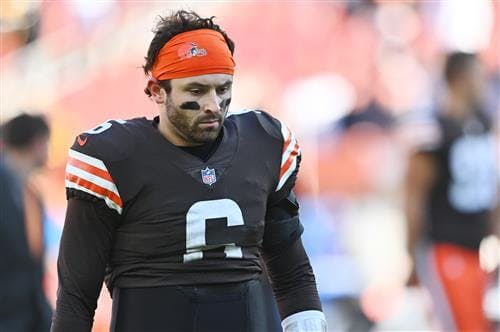 For weeks, two teams have been linked to Browns quarterback Baker Mayfield — the Panthers and the Seahawks. With all teams in position to study film from offseason workouts and with plenty of teams perhaps not having clear answers at the position, which teams should be at least pondering the possibility of a potential upgrade from their current projected starter to Mayfield?
On this weekend featuring not much actual news, now is as good a time as any to try to identify the universe of teams that should at least be thinking about Mayfield. Here they are, in no particular order.
The Browns.
If Judge Sue L. Robinson decides that Deshaun Watson should miss the entire season, or if on appeal the Commissioner makes that ruling, the Browns will need a quarterback for all of 2022. Mayfield makes the most sense, on paper. Unfortunately, the bridge between Baker and the Browns has been obliterated. The only way to mend fences would be for the Browns to offer him more money and an unimpeded path to the open market in 2023. Even then, it's probably not enough.
The Steelers.
When the Steelers made quarterback Kenny Pickett the 20th overall pick in the draft, the door seemingly slammed on the possibility of Mayfield making a beeline to the 'Burgh if he's ultimately cut by the Browns. But with Pickett by all appearances not ready to play, isn't Mayfield (if healthy) a better option than Mitch Trubisky? Mayfield definitely is. And while that would be an intriguing answer for 2022, it could throw a wrench in the plans for 2023, if the Steelers have a great year with Mayfield. Some would call that a good problem to have.
The Panthers.
They're reportedly still haggling with the Browns over the amount of money the two teams would pay toward Mayfield's 2022 guaranteed salary of $18.8 million. At some point, the logjam needs to be broken. If the Panthers wait too long, one of these other teams may snatch him.