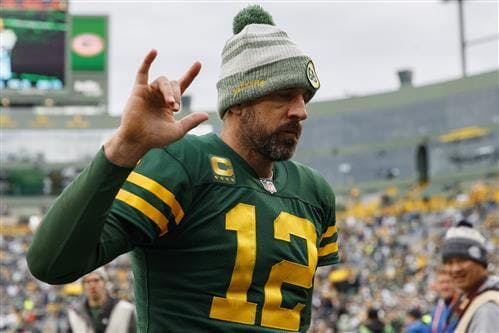 The 2022 NFL season is chugging right along toward its next major milestone: the trade deadline.
This could be one of the more interesting lead-ups to a deadline in some time, largely because of the number of projected contenders who are off to slow starts. Several teams projected to be among the league's best are sitting at or below .500 heading into Week 7.
Expect many of these flailing squads to look outside of their organizations for assistance over the next two weeks, bringing in veterans who can help orchestrate a turnaround in time for a playoff push.
With that in mind, here are five teams that are looking desperate as the Nov. 1 deadline draws closer.
Las Vegas Raiders (1-4)
The Las Vegas Raiders were one of the most intriguing dark-horse contenders this year after an offseason in which they made several high-profile additions. The team managed to make an unlikely playoff appearance in 2021 but has thus far underwhelmed in 2022.
It was always going to be difficult for the Raiders to break through in a competitive AFC West, but they have disappointed even against lesser opponents and made a habit of coming up short in close games. After a heartbreaking one-point defeat to the division rival Kansas City Chiefs, Vegas dropped to 1-4 and is in grave danger of a lost season.
The Raiders could almost just as easily be 4-1, however, as all four of their losses have come by six points or fewer. Because the squad is failing to cap off comebacks or hold off surges, it now is tied for the worst record in the league.
Davante Adams, the marquee wideout the team traded for this offseason, vented his frustrations with the team's record compared to its talent level, per Paul Gutierrez of ESPN:
"It would be probably less frustrating if you don't have that great of a team. But we've got a really good team, so it's frustrating for it to happen, to keep happening. We've just got to keep on truckin', sticking to what we do and finish out games. It's not like we're getting blown out and we don't have answers. We're playing good football; we're just not playing 60 minutes of it."
The Raiders had a much-needed bye to help sort out their issues in Week 6, but they could use a little extra push to get over the hump.
Fortunately, Las Vegas has some time to work the phones and unearth a missing piece or two before the deadline. The team has some assets to potentially deal—including defensive end Clelin Ferrell and safety Johnathan Abram—while it tries to find a playmaker, preferably on defense, who could give it the edge it needs to get back on track.
Green Bay Packers (3-3)
After losing a mere 10 regular-season games over the last three years combined, the Green Bay Packers are off to a rough start. The team fell to .500 following a loss to the New York Jets on Sunday and is now on pace for its worst campaign since 2018.
A blowout season-opening loss to the NFC North rival Minnesota Vikings raised some eyebrows, but the Packers were embarrassed by the New Orleans Saints in Week 1 last year. Instead of recovering like the 2021 squad did by ripping off seven consecutive wins, this version of the Packers has stumbled to 3-3.
The offense looks lost without star receiver Davante Adams. Green Bay is averaging a mere 17.8 points per game, a bottom-10 number that pales in comparison to the team's 2021 output of 26.5 points per contest.
Although the defense carried the Packers earlier in the season—allowing just 46 points across three straight wins between Weeks 2 and 4—the team is now slumping on that side of the ball. The unit gave up 27 points apiece at home against the New York Giants and Jets during Green Bay's current two-game slide.
While hope is not lost yet, some of the players are beginning to express concerns. Prior to the Week 6 defeat, star cornerback Jaire Alexander said, "I ain't worried, but if we lose next week, then I'll be worried."
Making a major splash in the trade market could help correct Green Bay's season. Acquiring a solid wideout such as Pittsburgh's Chase Claypool could jump-start an offense that sorely needs a shot in the arm. ESPN's Jeremy Fowler noted rival GMs are "certain" this team desires one.