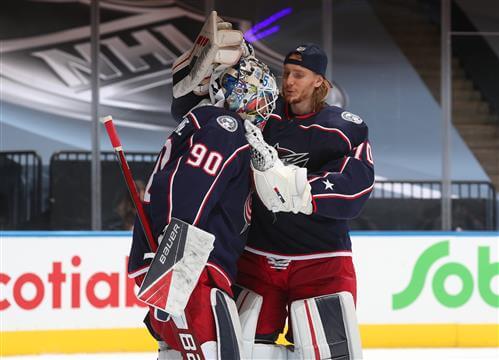 The Athletic's Aaron Portzline wrote this week on the tough decision that the Blue Jackets have to make regarding trading one of their goaltenders. Portzline gathered a "who's who" of NHL goaltending knowledge to offer insights on which goaltender might be better–and why.
The article is a recommended read, for sure, but we decided to dig a little deeper than the traditional goaltending stats to explore some of the questions Portzline raised.
Read More- 5 Potential Destinations for Former Blue Jackets Coach John Tortorella
WHO IS THE BETTER GOALTENDER ON THE ICE?
Of course, it's a challenge to remove intangibles from any player evaluation, but if we seek to understand which goaltender gives Columbus a better chance to win, we can look at some different stats. Goals-against average and save percentage are nice and all, but they don't consider the types of shots coming his or her way, nor do they always account for a mismatch in workload.
For a deeper analysis, we'll look at numbers that explore how a goaltender fared considering the quality of shots faced. We can do this using Evolving-Hockey's dFSV%. This is a fancy acronym for "the difference between the what a goaltender was expected to save based on the shot quality against and what he actually saved."