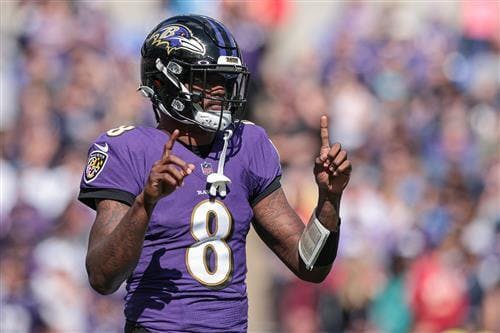 The Baltimore Ravens confirmed Friday they were unable to reach a contract extension with quarterback Lamar Jackson, who is not represented by an agent, putting the brakes on the most high-profile talks in the NFL until after the season, and increasing the scrutiny every time Jackson takes the field.
When Jackson fires a game-winning touchdown pass, the reaction will include how he increased his value and how the Ravens dropped the ball by not getting an extension done. When Jackson commits a turnover or takes a big hit, some will argue he should have signed a deal before the season and that he cost himself millions.
"He doesn't really talk about it, so it hasn't really been a distraction," Ravens cornerback Marlon Humphrey said.
The Ravens' focus is winning the AFC North and becoming the NFL's latest team to go from last place to first. It has happened in 17 of the last 19 seasons, including last year when the Cincinnati Bengals went from a four-win season to the Super Bowl.
Once the season is over, Baltimore's challenge shifts back to getting Jackson signed long-term. But in the meantime, questions abound.
Will Jackson get the franchise tag next year?
This is where the Ravens and Jackson are headed unless they can find a compromise, although the two sides have been working on that for the last 20 months without an agreement.
March 7 is the deadline for teams to use the franchise tag. If the sides can't reach a deal by then, the Ravens would have to use the tag on a quarterback for the first time in the franchise's 27-year history to keep Jackson from becoming an unrestricted free agent. Jackson would make $45 million in 2023 if he plays under the exclusive franchise tag.
This is rare territory for franchise quarterbacks. In the previous 10 offseasons, only two have been given the tag: Kirk Cousins (2016 and 2017), who was with Washington at the time, and Dallas' Dak Prescott (2020 and 2021), according to ESPN Stats & Information. Prescott eventually signed a long-term extension with the Cowboys while Cousins hit free agency and signed a landmark deal with the Minnesota Vikings.
History suggests Baltimore has time to avoid placing the tag on Jackson. A decade ago, quarterback Joe Flacco declined the Ravens' offer on a contract extension entering his fifth year, just like Jackson. After Flacco led the Ravens to a Super Bowl win, the team signed him to a record-setting deal 25 days later (and three days before the tag deadline).