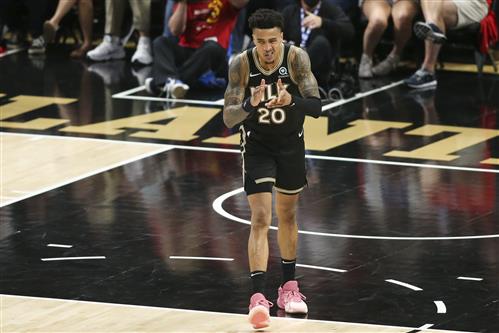 The Atlanta Hawks took everyone by surprise this NBA season not only because they made the playoffs as the 5-seed in the Eastern Conference, but because they made it all the way to the Eastern Conference Finals, knocking the Philadelphia 76ers out of the playoffs in the process!
Trae Young was spectacular all season long for the Hawks, but the biggest storyline for them is how well-rounded they are as a team with a balance between experienced and youthful talents. Last year's offseason additions of Bogdan Bogdanovic and Danilo Gallinari proved to be huge in the postseason for Atlanta, which is why they are now a team to watch moving forward in the Eastern Conference.
However, they do have a big decision to make this offseason in regards to one of their young talents. After failing to reach an agreement on a long-term extension prior to the 2020-21 season, John Collins is now a restricted free agent and will be one of the more coveted forwards available in free agency this year.
According to Shams Charania of The Athletic, the Timberwolves, Mavericks, Heat and the Spurs are four teams that are expected to show interest in the young big man. The San Antonio Spurs are a very interesting team to keep an eye on because with DeMar DeRozan and Rudy Gay being free agents, this franchise suddenly could have a lot of cap space to go after a young, versatile talent like John Collins.
Going after Collins outright instead of a sign-and-trade is definitely a possibility this offseason, but in the event that the Hawks match the Spurs offer-sheet and look to execute a sign-and-trade with Collins, what could San Antonio offer up to Atlanta?
Let's take a look at a potential sign-and-trade deal involving John Collins going to the San Antonio Spurs.
San Antonio Spurs Receive: F John Collins (via sign-and-trade)
Atlanta Hawks Receive: G Derrick White, G Tre Jones
The Atlanta Hawks do not have many needs as a team, but they do need to sort things out in their backcourt. Trae Young is their only true ball-handler, which is why Atlanta will be looking to add another guard to aid them this offseason.
In this sign-and-trade involving John Collins, the Hawks would not only get a young point guard in Tre Jones, but they would also get an established combo-guard in Derrick White who was considered to be one of the biggest breakout candidates of the 2020-21 season, but he missed a lot of time early on in the year with an ankle injury.