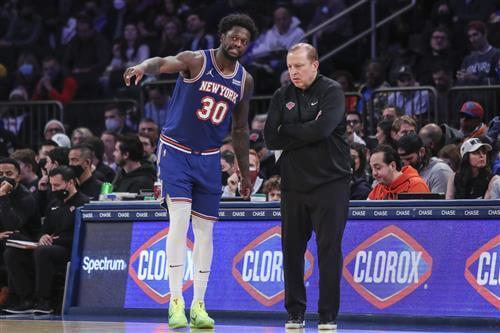 What sets teams apart in the NBA? Coaching, defense — sure. While important pieces, they are trumped by the need for a superstar. This is a player that can act as a finisher when games get tight and make a play when needed. This is basketball. Teams with the most talent are going to win more times than not, especially come the postseason.
Enter the New York Knicks. This is a team that made some nice moves on paper in the offseason but they have not translated to much yet.
Julius Randle signed an extension in the offseason. After an All-Star season, New York viewed him as a star but it takes a little more to earn that title. In a recent game against the Brooklyn Nets, a late-game technical foul might have cost the Knicks the game. Of course, Kevin Durant was able to take over. Another late-game blunder, in the form of a turnover this time, halted the Knicks' effort of posting a 21-point comeback against the Chicago Bulls.
This was move No. 1. Next, New York signed Kemba Walker.
Walker averaged a career-low 11.7 points this season before the New York Knicks announced that he would be taken out of the rotation. This is because of a lack of production on both ends. Whether this be the Knicks' fault for not using him the right way or Walker not contributing the way expected, this two-year deal has been a bust.