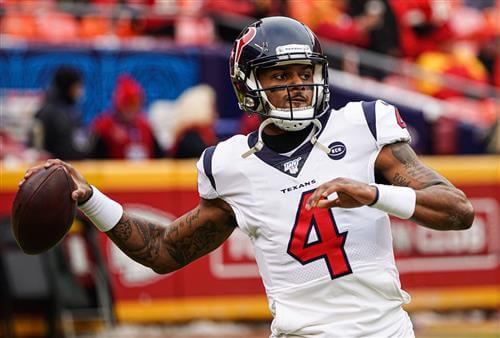 As spring workouts wrap up in the NFL, the makeup of the Houston Texans' quarterback depth chart has become a little clearer with the additions of Tyrod Taylor and Davis Mills, but Deshaun Watson's NFL future remains in limbo.
Watson didn't show up for voluntary organized team activities. Mandatory minicamp is June 15-17. If Watson doesn't attend, he would be fined $95,877 unless the Texans opt to make the three-day minicamp voluntary or cancel it entirely, as several other NFL teams have.
Read More- 4 ideal Robby Anderson trade scenarios from the Panthers
Here's a look at the Texans' quarterback situation and where things stand in Houston:
What are the chances Watson plays in Houston again, and what does that mean?
It seems unlikely Watson, the Texans' 2020 starting quarterback, will play again for the team. Two months after asking for a trade because he reportedly wasn't happy with the way Houston handled the search for its general manager, the first of 23 lawsuits were filed against him. There are currently 22 active lawsuits alleging sexual assault and inappropriate behavior by Watson.
Hours before the first lawsuit was filed March 16, the Texans agreed to a one-year, incentive-laden contract with Taylor. He said last week when he signed with the Texans he wasn't "for sure about" whether he'd be the starting quarterback, but that he saw it as "an opportunity for me to be able to showcase what I can do." Later in that same news conference, Taylor said, "The opportunity to be able to start here is something that I look forward to."