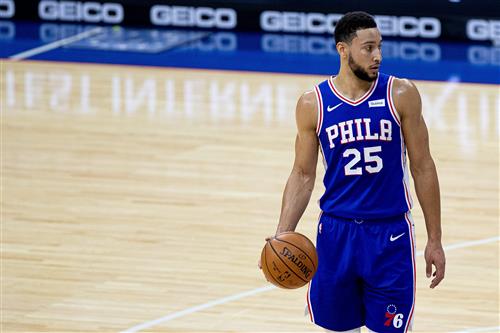 We are now officially three weeks away from the NBA trade deadline and we are still looking for answers in Philadelphia pertaining to Ben Simmons. Joel Embiid has been carrying the 76ers lately, looking like a true MVP candidate in the process, but the Sixers have not fully looked like a championship contending team this season.
Embiid can only do so much for this team and without another star next to him in a loaded Eastern Conference, it is hard to imagine that this team has what it takes right now to win the conference and go to the NBA Finals for the first-time since 2001.
Daryl Morey and the 76ers' front-office continue to field calls daily on a potential Simmons trade and there are several teams interested in him, but the Sixers have set such an unrealistic price on the three-time All-Star.
They should want to get a grand return for him, but the chances of doing so at this point are very slim, which is why Philadelphia faces two paths right now.
The first path is that they can just trade Simmons and salvage any kind of value that they can for him to try and win right now and the second path is to just sit back, wait for the right trade package and try to win with what they have.
One of these paths presents a chance to win a title and the other just sets them up for postseason disappointment yet again… you can decide which one is which!
The Sacramento Kings have been one of the teams to have shown heavy interest in trading for Ben Simmons ahead of the deadline, yet they have been unable to match the 76ers asking price in trade talks.
With the Sixers not wanting De'Aaron Fox in return, Sacramento's potential trade packages are very slim for what they can offer up, but they may very well make one last-ditch effort ahead of the deadline to acquire Simmons.
Let's take a look at a trade proposal put together by Bleacher Report's Grant Hughes that sends 76ers' Ben Simmons and some others to the Kings for three impactful players.
Philadelphia 76ers Receive: G/F Buddy Hield, F Harrison Barnes, G Tyrese Haliburton
Sacramento Kings Receive: G/F Ben Simmons, F Georges Niang, F Paul Reed
Trying to figure out whether or not the 76ers will actually trade Ben Simmons or not is like trying to decide whether or not to bet "red" or "black" at the roulette wheel. If there is a deal to be had for Simmons at the deadline this season, it will most likely involve the Sacramento Kings because they have made their entire roster available in trade talks.
De'Aaron Fox is the Kings' best talent, but the 76ers have been said to not be interested in the young point guard. Does that mean that they could be interested in a package surrounding Tyrese Haliburton, Buddy Hield and Harrison Barnes instead?
All three guys are impactful players and each player brings something different to the table for Philadelphia, a team that desperately needs more scoring depth.