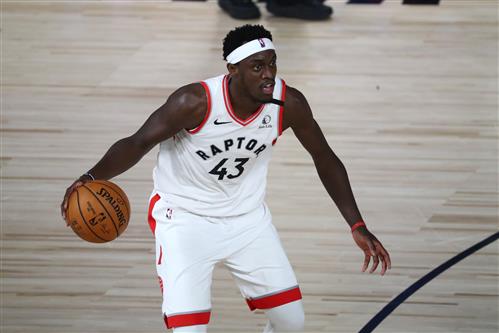 The Toronto Raptors have started 0-3, the first time since the early 2000s. They look like they're struggling against a lot of teams: it showed most recently when Pascal Siakam had an abysmal game against the Philadelphia 76ers. Something needs to change: the Toronto Raptors have definitely declined as a team, barring the internal development of their players. Losing their two elite defensive-minded centers in free agency and replacing them with Aron Baynes isn't going to cut it for the future.
The Warriors are currently looking for a star to put next to Stephen Curry. The two teams could work something out. The Raptors' biggest trade chip is Pascal Siakam: a combo forward who can do it all on the basketball court yet is heavily inconsistent. The Warriors would most likely put together a decent package for Siakam, but it wouldn't be as much as they would give up for a superstar like James Harden. Here is the potential trade:
Golden State Warriors Receive: Pascal Siakam
Toronto Raptors Receive: Draymond Green, Eric Paschall, 2021 Minnesota Timberwolves pick (1-3 protected)
The Toronto Raptors Re-Tool For The Future
Trading away Pascal Siakam might be a bold move, especially considering he made his first All-Star team just last year. However, Siakam has been struggling mightily ever since the Orlando bubble, especially on the offensive end. Perhaps trading him away to a team where another player like Stephen Curry can command some of the attention would be the best move for his career. The Warriors would have to send out a reasonable package, as Siakam is just entering his prime. The Raptors would demand assets for the future: with their development system, they could develop most prospects into great NBA players.