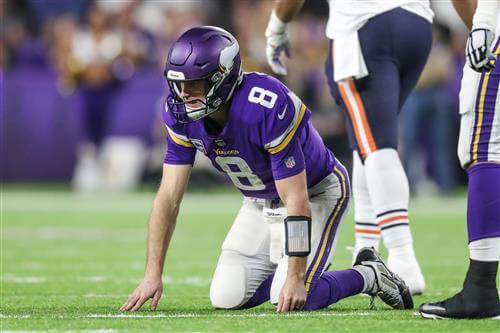 There is no other way to say this, and you may want to make sure the kids can't read it. It's not pretty. But it is true. It's a fact.
This was a massive, stinking, terrible choke job by the Minnesota Vikings.
The Vikings went to the NFC championship last year. After losing to the Bears 24-10 on Sunday, they're not even going to the playoffs this year.
Not only that, but in a game where their playoff lives were on the line, the Vikings played timid. The Bears had little to play for, but they were vicious and hungry. It should have been the other way around.
In a way, it's what we should have expected. Because the choke job wasn't just in the loss that closed the season. It was in the offseason signing that came to define it.
There are plenty of things that changed for the Vikings between that title game appearance and this no-show, but maybe none is bigger than the guy who played quarterback in purple Sunday.
There's a reason people like me have been critical all year of Vikings QB Kirk Cousins—and of the Vikings' decision to sign him for $84 million in guaranteed money during the offseason. It's because the Cousins we saw Sunday is the one we saw for six long seasons in Washington.