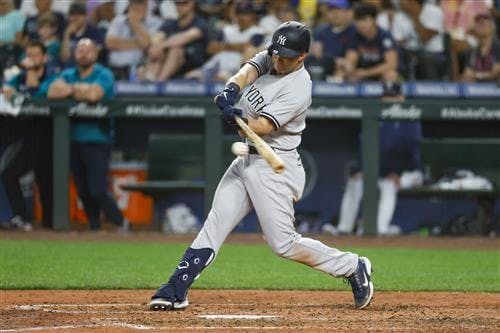 A significant payday has always been waiting for superstars Aaron Judge and Trea Turner when they hit the open market following the 2022 season, and the same will be true for Jacob deGrom, Xander Bogaerts and Carlos Correa if they opt out of their contracts.
Willson Contreras, Brandon Nimmo, Josh Bell, Nathan Eovaldi and Chris Bassitt also entered the season with solid free-agency stock and have only solidified their earning power this year.
However, a handful of players have considerably boosted their free-agent profile.
Ahead we've highlighted the 10 upcoming free agents who have done the most to improve their earning power during the 2022 campaign.
Let's start with a few honorable mentions.
Honorable Mentions
-The Texas Rangers released Matt Carpenter from a minor league deal on May 19, and a week later he caught on with the New York Yankees. The 36-year-old has found a second life in the Bronx, posting an absurd 219 OPS+ with 15 home runs in 154 plate appearances as a part-time player. At the very least, he should be able to turn that into a guaranteed MLB deal this offseason.
-One of baseball's elite prospects a decade ago, left-hander Matt Moore struggled to a 6.29 ERA in 73 innings with the Philadelphia Phillies in 2021, but he has reinvented himself as a reliever this season. The 33-year-old has a 1.90 ERA and 9.7 K/9 in 40 appearances, and teams are always looking for quality southpaw relievers.
-Veteran Michael Wacha has been sidelined since June 28 with shoulder inflammation, but he had a 2.69 ERA and 1.11 WHIP in 70.1 innings before landing on the injured list. If he was able to secure a one-year, $7 million deal from the Boston Red Sox last offseason coming off a 5.05 ERA in 124.2 innings with the Tampa Bay Rays, he should be able to break $10 million on his next contract.
LHP Tyler Anderson
Left-hander Tyler Anderson was a nice scrap-heap pickup by the Pittsburgh Pirates in 2021, as he posted a 4.35 ERA in 103.1 innings while pitching on a one-year, $2.5 million deal before he was flipped to the Seattle Mariners at the trade deadline.
The Los Angeles Dodgers gave him a one-year, $8 million deal during the offseason in an effort to add some depth to the back of their starting rotation, and he has rewarded them with the best season of his career.
The 32-year-old has gone 13-1 with a 2.72 ERA, 1.00 WHIP and 97 strikeouts in 122.1 innings, earning his first All-Star selection.
With a 3.33 FIP and strong batted-ball metrics, he does not look like a candidate for significant regression, and the three-year, $36 million deals that Anthony DeSclafani and Yusei Kikuchi signed last offseason are a reasonable target for his next contract.
OF Andrew Benintendi
Once the top prospect in baseball, Andrew Benintendi never quite developed into the star many were expecting him to be during his time with the Boston Red Sox, and he was traded to the Kansas City Royals prior to the 2021 season.
After hitting .342/.398/.570 with five home runs and 29 RBI over the final 31 games of 2021, he looked poised for a big contract year, and so far he has delivered.
He hit .320/.387/.398 for a 124 OPS+ in 390 plate appearances with the Royals to begin the year, earning his first All-Star selection, and he was a popular name leading up to the trade deadline before he was dealt to the New York Yankees.
The 28-year-old is off to a slow start in the Bronx, but his age, contact ability and Gold Glove defense in the outfield will make him an attractive target for a multiyear deal.
RHP Edwin Díaz
Already one of baseball's most overpowering relievers, Edwin Díaz is having the best season of his career and one of the most dominant campaigns we've seen from a reliever in quite some time.
For starters, he has struck out 91 of 172 batters, good for a 52.9 percent strikeout rate that is the best in MLB history by a pitcher with at least 30 innings pitched, narrowly eclipsing Aroldis Chapman in 2014 (52.4 percent).