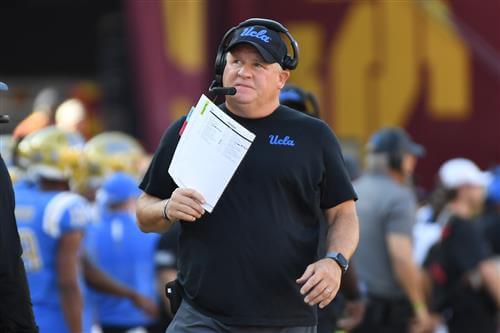 Thirty football players at UCLA have signed a letter to the program demanding a third-party health official oversee all team activities to ensure COVID-19 precautions and testing are being adequately handled by the school.
J. Brady McCollough of the Los Angeles Times reports the players sent the document to administrators Thursday evening in which they argue the program has "perpetually failed us" and "neglected and mismanaged injury cases."
The letter, obtained by the Times, specifically calls out a lack of trust between head coach Chip Kelly and his players. Bruins quarterback Dorian Thompson-Robinson is among those who signed their name to the demands.
Portions of the document read:
"These demands reflect our call for an environment in which we do not feel pressured to return to competition, and if we choose not to return, that our decision will be respected. If our demands are not met, we will refrain from booster events, recruiting events and all football-related promotional activities.
"The decision to return to training amidst a global pandemic has put us, the student-athletes, on the frontlines of a battle that we as a nation have not yet been able to win. We feel that as some of the first members of the community to attempt a return to normalcy, we must have assurances that allow us to make informed decisions and be protected regardless of our decision...