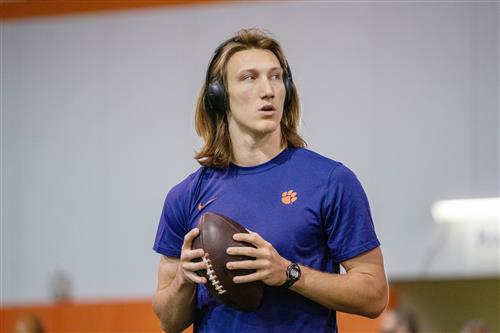 Former Clemson quarterback Trevor Lawrence will be the first pick of the 2021 NFL Draft to the Jacksonville Jaguars later this month.
By now, it's well known that Lawrence is the consensus top player in a loaded class at quarterbacks. Once the Jaguars wrestled the No. 1 pick away from the New York Jets by losing 15 consecutive to close last season, it became clear that he would be heading to Duval.
One week after marrying longtime girlfriend, Marissa Mowry, Lawrence seemed to confirm what we already knew would be the case. Check it his post on social media.
First off, congratulations are in order to Lawrence and Mowry. The two first met in eighth grade and ended up attending Cartersville High School in Georgia together. They initially announced their engagement in July of last year, but pandemic-related issues seemed to postpone the nuptials.