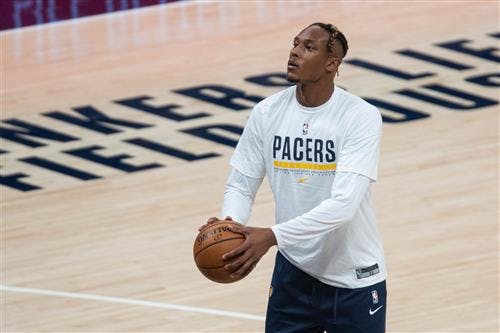 For NBA teams fortunate enough to find themselves in the championship race, a little greed can be a good thing.
The margin for error at the Association's apex is either wafer-thin or simply nonexistent. Teams must be over-prepared for anything the basketball gods throw their way, be that an ill-timed injury, a brutal matchup or a team-wide case of the chills.
In other words, even the best-built rosters could be improved, so that's the objective here. Using a batch of six squads recently crowned full-fledged contenders by B/R's Greg Swartz, we are identifying the ideal trade target each one could realistically land.
Boston Celtics: Bojan Bogdanovic
With Danilo Gallinari lost to a torn ACL, Boston could pivot toward a higher-end version of the same archetype with Bojan Bogdanovic.
While the 34-year-old Gallinari had perhaps started showing his age of late, there has been no such apparent decline with the 33-year-old Bogdanovic. If anything, he seems to be on the aging-like-fine-wine plan. Last season, he hit the second-best marks of his career in points per game (18.1) and win shares per 48 minutes (0.118).
He is every bit the outside marksman that Gallinari is, but Bogdanovic offers more as a self-sufficient scorer. He can post up smaller defenders and snake around bigger ones. Now, Boston might primarily want catch-and-shoot sniping from him, but he could still nab enough touches to add an extra wiggle or two to this attack.
The Utah Jazz, who are now under the direction of former Celtics decision-maker Danny Ainge, are reportedly seeking a first-round pick for Bogdanovic, per ESPN's Zach Lowe. The Celtics shouldn't have much hesitation meeting that price with a potential championship run on the line.
Denver Nuggets: Jonathan Isaac
Expectations are understandably up in Denver given the anticipated returns of Jamal Murray and Michael Porter Jr. With those two set to rejoin two-time reigning MVP Nikola Jokic, the Nuggets might have the horsepower needed to navigate a prolonged playoff run.
However, Denver's defense could have some rough moments, as all three do their best work at the opposite end. The Nuggets have smartly snagged a few stoppers to support their high-scoring trio—Aaron Gordon, Kentavious Caldwell-Pope, Bruce Brown—but they could be in the market for more.
Particularly a talent like Jonathan Isaac, who flashed Defensive Player of the Year potential before knee and hamstring injuries knocked him out of the past two seasons. Now, there's a joke to be made here about his injury woes fitting right in with this franchise, but if Denver kept him upright, it might have an all-purpose, five-position defensive dynamo.
The Orlando Magic have overcrowded their frontcourt in Isaac's absence, so perhaps they'd be open to moving him for the right price. If the Nuggets can afford whatever that is, they should pounce. Isaac not only looms as a possible cure for what ails Denver's 15th-ranked defense, but he could also stabilize their very unstable collection of backup bigs, which is slated to feature DeAndre Jordan, Jeff Green and Zeke Nnaji.
While Isaac is signed through 2024-25, all of the remaining seasons on his contract are either partially guaranteed or non-guaranteed. Orlando could wait to see what he has left in the tank, but with No. 1 pick Paolo Banchero, Wendell Carter Jr., Mo Bamba and Mo Wagner all filling up the frontcourt, the Magic have enough depth to deal Isaac before his trade value falls even further.