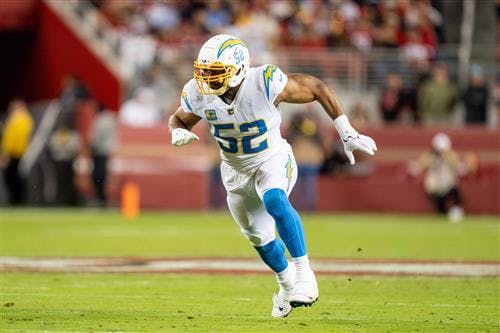 The NFL offseason will bring about a fresh round of salary-cap casualties. As teams look to cut costs and get cap compliant for the 2023 campaign, it is all but inevitable that a slew of highly paid veterans will be released.
While some of these players have seen their production fall off a cliff and will be hard-pressed to continue their careers with other franchises, others are still in the primes and have the potential to be major contributors with the clubs they next land with.
James Bradberry is a good example of how one team's cap casualty can become another's star. The New York Giants released the cornerback last year to save over $10 million, freeing him up to sign with the rival Philadelphia Eagles. The 29-year-old paid dividends on his one-year, $7.3 million deal, becoming a key contributor on a Super Bowl defense and making a second-team All-Pro appearance.
With that in mind, here are five cut candidates who could be steals for another team in 2023.
Derek Carr, QB, Las Vegas Raiders
After Derek Carr got benched at the end of the regular season and stepped away from the team, it seems like it is only a matter of time before the veteran quarterback is playing for another organization.
A trade is possible given how many clubs are desperate for a quarterback this offseason. ESPN's Jeremy Fowler recently reported that the New Orleans Saints are a potential suitor for the four-time Pro Bowler, but it remains to be seen if they are willing to cough up much, if anything, for a player who could soon get released.
While the Las Vegas Raiders would obviously prefer to return some value for their longtime signal-caller, it won't be easy to trade Carr because of his contract. His hefty $32.9 million salary become fully guaranteed Feb. 15. According to ESPN, Carr has said he's not interested in moving that date back, and he has a no-trade clause.
With transactions unable to be made official until the new league year begins March 15, Vegas may simply cut the signal-caller rather than risk getting stuck footing the bill if a trade partner goes back on a handshake deal.
The Raiders would save some money this way, as releasing Carr would free up $29.3 million in cap space. But the team is projected to be $17.5 million under the cap already and doesn't need to make any drastic moves right now.
Still, there was a clear falling out between the team and its second-round pick in 2014, one that seems irreconcilable.
The 31-year-old may have had a rough 2022, but he earned a Pro Bowl nod after completing 60.8 percent of his passes for 3,522 yards and 24 touchdowns against 14 interceptions. Carr is only a year removed from throwing for a career-high 4,804 yards and hadn't had lower than a 67.3 percent completion rate before this year since 2017.
Whether he lands with the Saints, New York Jets, Indianapolis Colts or another of the myriad of teams without a Pro Bowl-caliber quarterback on the roster, it's all but guaranteed he will be starting for one of them next year and represents a massive improvement over any of their current options under center.