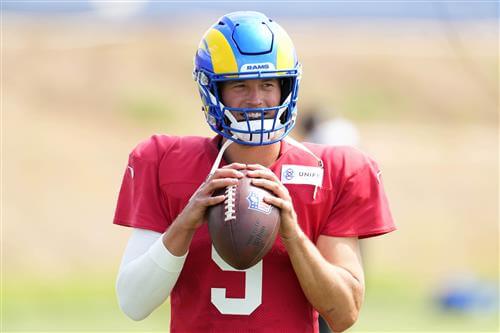 Tom Brady led the Tampa Bay Buccaneers to a Super Bowl victory in his first season with the franchise. It is unrealistic to expect that level of return annually, but several newcomers should help their respective teams factor into the playoff picture.
Here are the familiar faces in new places slated to make an impact:
The QBs: Carson Wentz (Colts), Matthew Stafford (L.A. Rams) and Ryan Fitzpatrick (Washington)
For the time being, the quarterback carousel has stopped spinning and a handful are expected to start for new teams in Week 1. Rather than highlighting them all, let's focus on those most likely to factor into the playoff hunt this season.
Wentz struggled to stay healthy in Philadelphia, and his early tenure in Indianapolis has certainly not done anything to quell those murmurs. It sounds as though the former No. 2 overall selection will start for the Colts this weekend, but a greater impact can be made on the season as a whole. General manager Chris Ballard has constructed a playoff-caliber roster and laid the fate of those players at the feet of Wentz. Wentz has corralled supporters dating back to his near-MVP season, but his career resembles a banana; awful during his first and most-recent seasons (unless you're a psycho) but appealing on the inside. Fortunately, he found the most success with Frank Reich.
In Los Angeles, Sean McVay has diverted from an offense designed to administer death by a thousand paper cuts to a potent, Stafford-led air attack featuring Robert Woods, Cooper Kupp, Van Jefferson and DeSean Jackson. Reports out of Los Angeles suggest the Rams are pushing the ball downfield, and that will open the rest of the field for tight end Tyler Higbee and Kupp.
Stafford had averaged just 6.6 wins per season since joining Detroit, and it has been five years since he appeared in the playoffs. The expectations that come with his arrival in Los Angeles should be welcomed.
People are overlooking the historic lack of success among 38-year-old quarterbacks in the NFL. Recent history has clouded judgment with Tom Brady being the outlier, not an example. Washington has a strong roster that should compete for a playoff spot, but it is very dependent upon the health and success of Fitzpatrick. He could have a huge impact and lead Washington to an NFC East crown, but there is a higher level of risk.
Sam Darnold (Panthers), Teddy Bridgewater (Broncos), Jared Goff (Lions) and Andy Dalton (Bears) are a few of the other quarterbacks starting for a new team this season.