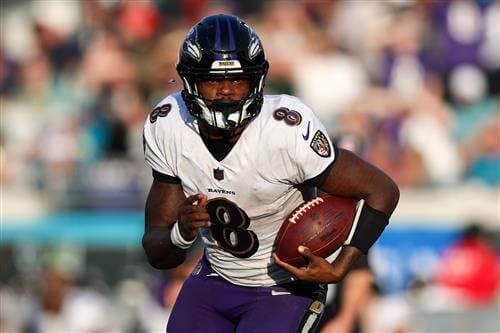 The list of 2023 NFL free agents is incredibly full right now. That includes former NFL MVP Lamar Jackson and one of the best to ever play the game, Tom Brady.
Obviously, this list will dwindle as top-end players sign contract extensions. The NFL franchise tag will also play a role in who hits the open market in March of 2023.
As it stands, here's our list of the top NFL free agents for 2023. This includes a positional breakdown at the bottom.
1. Lamar Jackson, quarterback, Baltimore Ravens
Jackson and the Ravens were at a standstill with reports surfacing that the quarterback was not in a rush to sign an extension with Baltimore this past offseason. This is complicated by the fact that he's represented by his mother in contract talks.
Lamar Jackson stats (2022): 62% completion, 2,231 passing yards, 755 rushing yards, 20 total TD, 7 INT, 91.3 QB rating
What we do know is that Jackson is highly unlikely to hit the NFL free agent market. The former first-round pick from Louisville has been absolutely dynamic throughout his four-year NFL career — accumulating 125 total touchdowns against 38 interceptions. Despite some recent struggles, he'll be the top NFL free agent should Baltimore somehow opt not to franchise the QB.
2. Saquon Barkley, running back, New York Giants
Despite finding himself injury plagued over the past two seasons, Barkley is going to be one of the most intriguing NFL free agents of the 2023 cycle. The former Penn State star has been dominant through 12 weeks, recording 1,215 total yards while averaging 4.7 yards per touch. The larger question here is whether Barkley can remain healthy and how teams might view his injury history on the open market.
3. Roquan Smith, linebacker, Baltimore Ravens
Smith, 25, jumped on to the scene big time as a rookie back in 2018, recording 121 tackles, five sacks and five passes defended. After some struggles as a sophomore, he's picked it up over the past two seasons. That includes consecutive second-team All-Pro honors heading into 2022. Now a member of the Baltimore Ravens following a blockbuster trade with the Chicago Bears, Smith is looking to up his value down the stretch this season.