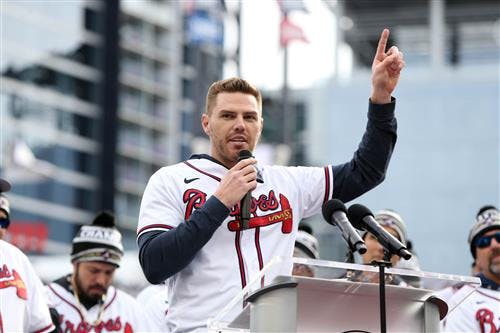 Here are the top 20 free agents available after the pre-lockout frenzy. Major leaguers won't be able to sign until there's a new collective bargaining agreement in place. (Statistics from 2021, WAR calculated by FanGraphs.)
1. Carlos Correa
What on earth is Correa going to get if Corey Seager received $325 million from the Rangers?! The star shortstop's market is a little perplexing after Texas' big splash and the Tigers' acquisition of Javier Baez. Detroit was the perceived favorite for the 27-year-old heading into the offseason. However, plenty of historically big spenders have yet to strike.
2. Freddie Freeman
It's bizarre to see Freeman's name still on this list considering the mutual interest between the five-time All-Star and the Braves, the only club he's played for during his 12-year career. The 2020 NL MVP is clearly the best first baseman in free agency and is reportedly looking for a six-year deal worth around $180 million. The Yankees and Dodgers are rumored to be interested.
3. Nick Castellanos
Castellanos is reportedly looking for a long-term deal that could reach eight years. The best free-agent outfielder available hit over .300 while surpassing the 30-homer plateau for the first time in his nine-year career during an All-Star campaign with the Reds in 2021.