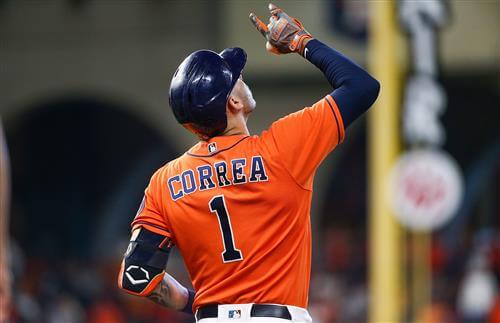 As the 2021 season concludes, baseball fans and teams are excited for the exciting crop of MLB free agents who will be available this winter. From young shortstops like Carlos Correa and Corey Seager to future Hall of Famer pitchers like Max Scherzer and Clayton Kershaw, a lot of money will be spent.
Below, we examine when MLB free agency will start, how the expiring CBA will impact this offseason and examine the top MLB free agents available.
When does MLB free agency start?
Players become free agents a day after the World Series concludes. However, per league rules, MLB free agents can only sign with a new team five days after the World Series. The five-day period gives teams an exclusive window to negotiate with their impending free-agent talent.
What is the MLB qualifying offer in 2022?
ESPN's Buster Olney reported that the qualifying offer for the upcoming 2021-'22 MLB free agent class will be $18.4 million. It's a slight dip from the $18.9 million figure last winter, reflecting the wave of teams reducing payroll. Once extended a qualifying offer, players have until Dec. 1 (when the CBA expires) to accept or reject.
Any team that signs a player who rejected a QO will lose a draft pick. If a free agent accepts the QO, they are never eligible to receive it again. Below is the compensation rules for the qualifying offer.
Teams above the luxury tax: Lose second- and fifth-highest selections, lose $1 million in INTL bonus pool money for signing a player that rejected QO.
Teams that receive revenue sharing: Any team who receives a share of revenue generated by other teams will lose their third-highest pick in the upcoming MLB Amateur Draft.
All other teams: Loss of second-highest pick and $500,000 in international bonus pool money
Who are the top MLB free agents of the 2021-'22 offseason?
2021-'22 MLB free agency is loaded with plenty of exciting, young talent and future Hall of Fame pitchers who are still throwing at an elite level. We'll update our MLB free agent rankings throughout the offseason.
1. Carlos Correa, Houston Astros
If the Houston Astros hoped Carlos Correa wouldn't stay healthy or would struggle in 2021, lowering his asking price, it backfired. The two-time All-Star revealed in April that negotiations on a contract extension never went anywhere with Houston and it left him with the impression this would be his last year in Houston. If he hits the open market, he's the best MLB free agent available.
Already a World Series champion, the 26-year-old shortstop is phenomenal with the glove and bat. In 2021, he ranked third at his position in FanGraphs' Wins Above Replacement (5.8), posted a .850 OPS and he led MLB in Defensive Runs Saved (21). A great character in the clubhouse and a proven performer in October, Correa will earn every dollar $200-plus million from his next contract.