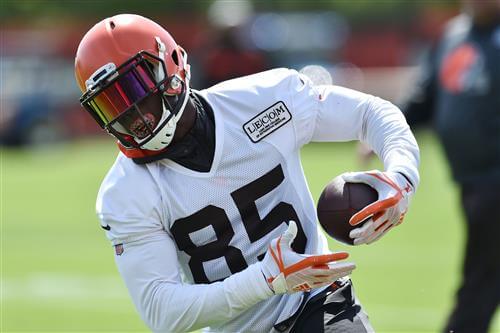 Three years after the Cleveland Browns used a first-round draft pick on physical marvel David Njoku, the tight end might be available on the trade market.
With newly added Pro Bowler Austin Hooper now topping Cleveland's depth chart at that position, Njoku and his agent, Drew Rosenhaus, have requested a trade before the start of training camp, according to ESPN's Adam Schefter.
"It is in David's best interest to find a new team at this time," Rosenhaus told Schefter on Friday.
Njoku missed all but four games due to injury in 2019 but flashed with 56 catches for 639 yards and four touchdowns as a sophomore in 2018. Tight ends often come along slowly, and the still-23-year-old entered the league somewhat raw, so he might be worth an investment of some draft or roster capital ahead of a $3 million contract year (his 2021 fifth-year option is guaranteed only for injury).
Where might he land? Here are the top potential trade destinations for the Miami product.
Washington
Washington's top tight end in 2019 was Jeremy Sprinkle, who averaged just 6.0 yards per target and scored just one touchdown in 16 games (13 of which he started). And while the team has plenty of other options at that position, Sprinkle, Logan Thomas, Richard Rodgers, Hale Hentges and Thaddeus Moss don't have ceilings that are close to as high as Njoku's.
Washington needs to do everything it can to support second-year first-round pick Dwayne Haskins at quarterback, and a 6'4" target with elite tight end speed could do wonders for Haskins' development.
Only the Browns and Tennessee Titans have more salary-cap space than Washington, who also have an extra 2021 third-round pick following the Trent Williams trade.