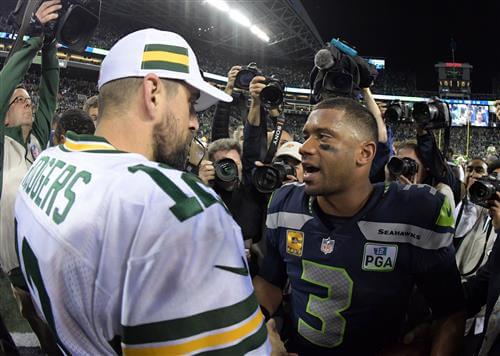 Forbes' annual list of the highest-paid athletes in the world has been released, and the 2019 money amount is up 5% from last year. With the rise in guaranteed money and contracts in the NFL, it's no surprise that star football players are at the top of the list.
With that in mind, here are the five highest-paid NFL players in 2019.
5. DeMarcus Lawrence ($46.9 M)
The Dallas Cowboys stud defensive end received a five-year, $105 million extension with $65 million guaranteed this past offseason. This record-breaking deal was the most guaranteed money ever given to a non-quarterback. Lawrence made the Pro Bowl the past two seasons, posting double-digit sacks in 2017 and 2018. At 27, Lawrence is entering the prime of his career. In today's NFL, a strong pass rush is one of the most important positions on the entire field. With a combination of Lawrence' age and production, it was a no-brainer for the Cowboys to extend him, making him the fifth highest paid player in the NFL. Interestingly enough, among the $46.9 million that Lawrence made in 2019, only $150,000 was from endorsements.
4. Khalil Mack ($55 M)
Widely regarded as one of the most dominant defensive players in the NFL, Mack was traded from the Oakland Raiders to the Chicago Bears in the 2018 offseason for two first-round picks. Immediately upon joining the Bears, Mack agreed to a six-year, $141 million extension, making him the highest-paid defensive player in NFL history. The 2016 Defensive Player of the Year enjoyed a solid season with the Bears in 2018, recording 12.5 sacks and a career-high six forced fumbles. At the age of 28, Mack will be a perennial Defensive Player of the Year contender for years to come.
3. Ben Roethlisberger ($55.5 M)
After missing the playoffs for the first time since 2013, the Pittsburgh Steelers and Ben Roethlisberger came to an agreement on a two-year extension worth $68 million. Although Roethlisberger had a productive season last year statistically, at the age of 37, it's fair to believe that his career may come to an end once his extension expires in 2021.