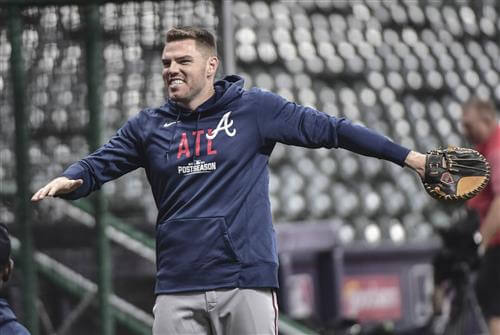 As the 2021 season concludes, baseball fans and teams are excited for the exciting crop of MLB free agents who will be available this winter. From young shortstops like Carlos Correa and Corey Seager to future Hall of Famer pitchers like Max Scherzer and Clayton Kershaw, a lot of money will be spent.
Below, we examine when MLB free agency will start, how the expiring CBA will impact this offseason and examine the top MLB free agents available.
When does MLB free agency start?
Players become free agents a day after the World Series concludes. However, per league rules, MLB free agents can only sign with a new team five days after the World Series. The five-day period gives teams an exclusive window to negotiate with their impending free-agent talent.
What is the MLB qualifying offer in 2022?
ESPN's Buster Olney reported that the qualifying offer for the upcoming 2021-'22 MLB free agent class will be $18.4 million. It's a slight dip from the $18.9 million figure last winter, reflecting the wave of teams reducing payroll. Once extended a qualifying offer, players have until Dec. 1 (when the CBA expires) to accept or reject.
1. Carlos Correa, Houston Astros
If the Houston Astros hoped Carlos Correa wouldn't stay healthy or would struggle in 2021, lowering his asking price, it backfired. The two-time All-Star revealed in April that negotiations on a contract extension never went anywhere with Houston and it left him with the impression this would be his last year in Houston. If he hits the open market, he's the best MLB free agent available.
Already a World Series champion, the 26-year-old shortstop is phenomenal with the glove and bat. In 2021, he ranked third at his position in FanGraphs' Wins Above Replacement (5.8), posted a .850 OPS and he led MLB in Defensive Runs Saved (21). A great character in the clubhouse and a proven performer in October, Correa will earn every dollar $200-plus million from his next contract.
2. Corey Seager, Los Angeles Dodgers
After leading the Los Angeles Dodgers to a World Series title, winning NLCS MVP and World Series MVP in the process, many viewed Corey Seager as the top MLB free agent in the 2022 class. While an extended stint on the injured list push him slightly down the list and will cost him a few million, he will be highly coveted.
The 27-year-old has dealt with a few injuries in his career, undergoing Tommy John surgery in 2018 and dealing with elbow, hand and hamstring issues at times. But a career .870 OPS and 23.7 fWAR through 636 games tells you everything about his talent. He'll soon become one of the highest-paid players in MLB and he could play short or third base for his next team.
3. Kris Bryant, San Francisco Giants
Kris Bryant is one of the most fascinating MLB free agents this winter. Once an NL MVP and considered one of the best players in baseball, the 29-year-old's reputation took a hit in recent years. After posting a .903 OPS in 2019, the COVID-shortened season saw him finish with a .644 OPS. The 2021 season is more interesting.
Bryant posted a .324/./406/.611 slash line with 12 home runs and a 1.016 OPS in his first 50 games. Over his next 43 contests in Chicago, he slashed .191/.296/.362 with a .658 OPS. We've seen a better version of Bryant with the Giants (132 wRC+, .865 OPS). If he does well in the postseason, that paired with his incredible defensive versatility should help Scott Boras negotiate a huge contract for him.
4. Freddie Freeman, Atlanta Braves
Freddie Freeman is synonymous with the Atlanta Braves. Drafted with the 78th pick in the 2007 MLB Draft, he quickly ascended to become an elite prospect and made his MLB debut in September 2010. More than a decade later, the five-time All-Star selection and 2020 NL MVP, could hit the open market.
The Braves and Freeman have discussed an extension all year, but the two sides remain far apart. He just turned 32 on Sept. 12, so there will be a slightly reduced market for his services. But if the Braves want to bring him back, helping Freeman end his career in Atlanta, it's likely going to cost $150-plus million.