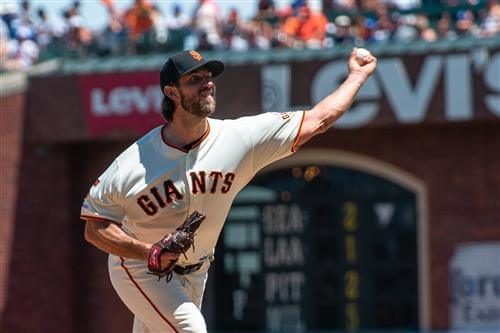 We're bringing back our annual series in the run-up to the trade deadline, drawing from our power ranking approach to pending free agents. As the summer trade market develops on a fairly tight timeline, you can expect more regular updates when modifications to the list are warranted. We're already seeing real action this year; most recently, Edwin Encarnacion was moved to the Yankees. (He had been listed in the #4 spot below in the initial draft of this post.)
The methodology, if you can call it that, is pretty straightforward. We're ordering players based upon a combination of trade value and trade likelihood.
In terms of trade value, we're starting with overall on-field value — with a premium on an ability to make an impact in the current season — and then adjusting for contract and market factors. With contenders' needs in relatively sharp focus, limitations such as future contract status, age, and niche role (platoon bats, relief-only pitchers) tend to have less of a drag on value — though obviously they still matter quite a bit.
With regard to trade likelihood, the focus is on potential selling teams' motivation to deal, with contract status, near and long-term roster fit, and overall competitiveness all weighing heavily. Some teams simply aren't presently in a position where it makes sense to include their top potential trade chips, but that will evolve over the coming weeks.
It's subjective; it's debatable; and that's what makes it fun. Here's the first list, with some additional names and teams to keep an eye on appended at the end (all statistics current as of June 13th):
1. Will Smith, RP, Giants: What really is there to say? A shut-down rental closer who throws from the left side and isn't all that expensive ($4.225MM) … yeah, that's going to be a popular trade target. Smith would upgrade every contender's roster and suit every payroll. Accordingly, the acquisition cost will be high. Want more on Smith? Read this.
2. Madison Bumgarner, SP, Giants: This version of Bumgarner shares quite a few attributes with the vintage article, but there are some telltale signs of age and wear. He's posting an 11.6% swinging-strike rate, but is allowing 1.35 home runs per nine. He's back over 92 mph with his average fastball, but opposing hitters have an 89.7 mph exit velocity and 43.4% hard-hit rate (career-worst figures for MadBum). He's affordable, but not a bargain at a $12MM annual salary. Bumgarner is a very good and highly likely trade candidate, but probably not a top-shelf rental starter who'll draw high-end prospect talent.
3. Marcus Stroman, SP, Blue Jays: "Controllable starter" alert! Everybody wants those, it seems. The 28-year-old is earning $7.4MM this year with another arb campaign remaining. While the Jays could hold if they fancy a shot at contention next year, or see a path to an extension, it seems like a good opportunity to cash in a pitcher that has had some ups and downs. The inconsistencies and acquisition cost will be of concern, but Fangraphs' Craig Edwards just explained why just about every team in baseball ought to have some level of interest in the grounder-heavy righty.
4. Justin Smoak, 1B/DH, Blue Jays: Did you miss on Encarnacion? Well, perhaps a cheaper, somewhat younger, switch-hitting piece whose more capable of playing first base would be a better fit. Smoak now stands out as the top rental bat, as he's turning in a third-straight productive season at the plate at an affordable $8MM salary.
5. Kirby Yates, RP, Padres: The Friars are putting out word they'd need to be overwhelmed to deal Yates, who is the organization's latest ultra-successful salvage reliever. But the fact that the club is interested in fielding offers at all represents an indication of a potential willingness to deal on a player who comes with another season of arb control. Yates has arguably been the best reliever in baseball this year and he's earning peanuts. There ought to be some competition once Ken Giles of the Blue Jays is back from the IL, but for now Yates appears to be the top potential relief target.
6-7. Tony Watson (Giants) & Jake Diekman (Royals), RP: It's hard to imagine that these southpaws won't change uniforms this summer. Watson has flaunted his exceptional command by leading the league with a ridiculous 42.9% chase rate and walking less than a batter per nine. He's easily worth his own healthy $6.5MM payday. The deal also includes some not-insignificant incentive pay based upon appearances, along with a player option that provides Watson with injury/performance protection, so that'll factor in to the trade return. Diekman has by some measures been better than ever. The 32-year-old is humming along at a 17.3% swinging-strike rate. He's dishing out a typically hefty volume of walks, but is showing some added promise in that regard by throwing first strikes at a career-best 61.9% clip. Diekman is amply affordable, too. He's promised just $2.25MM this year, with a $500K payout for a 2020 mutual option.
8. Nicholas Castellanos, OF, Tigers: Though his age advantage isn't quite as relevant in a rental scenario, the 27-year-old does offer some benefits over the hitters noted above. He has reeled off a string of quality seasons at the plate and is an increasingly palatable outfield defender, thus increasing his potential roster matches. The $9.95MM salary shouldn't be much of a barrier. Castellanos has also boosted his output since a tepid start, so it wouldn't be surprising to see him climb this board in the weeks to come.
9-10. Matthew Boyd, SP, Tigers; Whit Merrifield, INF/OF, Royals: If we were ranking possibly available players by trade value alone, these two would take the top spots. Boyd is turning in a breakout effort in his Super Two season, leaving three years of highly valuable control remaining. Merrifield has only further established himself as a quiet star who'd fit on every roster in baseball. He's also now inked to a contract that made sense for him but also unlocked yet more value for the K.C. organization. Just how willing these organizations are to deal these players remains to be seen, but both are sure to draw widespread interest and significant offers.
11-12. Sam Dyson (Giants) & Shane Greene (Tigers), RP: Good setup men are always in demand, so these experienced high-leverage hurlers will hold appeal. Neither has to be dealt, with a season of arb control remaining, but the time feels right for a move in both cases. Neither is a dominant strikeout pitcher, but both feature quality K/BB numbers and good groundball rates. Dyson is earning his $5MM salary with 32 frames of 2.53 ERA pitching that's fully supported by his peripherals (8.4 K/9 vs. 1.4 BB/9, 59.3% groundball rate). Greene isn't going to keep up an absurd 0.96 ERA, but he is certainly throwing the ball well (9.3 K/9 vs. 2.6 BB/9, 51.4% groundball rate). He's a nice piece at a $4MM salary with another arb year to go.
13-14. Tanner Roark (Reds) & Jordan Lyles (Pirates), SP: We're not going to bury these NL Central competitors just yet, as they are still within striking distance and won't want to sell if they don't have to. But both face uphill battles and it'll be awfully tempting to cash in on some veterans, particularly those on expiring contracts. Roark has exceeded expectations in Cincinnati and could be a nice piece this summer if the division is truly out of reach. Ditto Lyles, who is currently on a brief injured list respite but is already penciled in for a return start later this week. Roark is earning a hefty but fair $10MM salary, while Lyles is promised just $2.05MM on the year.
15. Pablo Sandoval, 3B, Giants: We already took a look recently at the Panda, who's available for sale or rent. TL;DR: If you're a team of means by no means, he just might make you king of the road. (Sandoval has a 142 wRC+ away from Oracle Park, thus supporting my over-played cultural reference. Here's a split of greater real-world relevance: the switch-hitter has been much better against right-handed pitching.)
16-17. Alex Colome (White Sox) & Mychal Givens (Orioles), RP: Though he's carrying a 2.30 ERA, Colome is unlikely to maintain a .113 BABIP-against. With anticipated regression mixed in, the 30-year-old looks like much the same pitcher he has always been. It's nice that he has been doing a solid job in the closer's role for the White Sox, but that's not going to sway many GMs in this day and age. He's eligible for arbitration in 2020 but is already earning a hefty $7,325,000 salary. With the White Sox hoping to stay in the race this year and increase their competitiveness next season, there are some scenarios where Colome ends up staying in Chicago. You could say the same of Givens. While the O's lack any reason for holding onto him for his immediate MLB value, he could be held in hopes of a bounceback. Givens is earning only $2.15MM this year and is controllable for two more seasons. You might wonder whether he's even really marketable at this point. I'd argue he is. Though he has been shredded by home runs, along with the rest of the Orioles staff, Givens is sitting at a customary 95+ mph with his heater and is getting swings and misses at a career-best 14.9% rate. Plenty of teams around the game would love to get ahold of Givens and his powerful right arm.
18-19. Corey Dickerson & Melky Cabrera OF, Pirates: The Bucs are in much the same position as the Reds. We're in no rush to say they can't make a run. But the word is that the Pirates are interested in moving Dickerson even as they field offers on Cabrera. That's a bit odd in some respects, given that the former is younger, is a more capable fielder, and has a better recent overall recent past at the plate. But the Pirates may prefer Cabrera from a value perspective, while some other teams may rather have Dickerson even though he costs more. Regardless, roster pressures are pushing a move of some kind here even if the Pittsburgh org tries to remain competitive past the trade deadline.
20. Andrew Cashner, SP, Orioles: Did I say starting pitcher? In that role, Cashner has been a marginal performer. And he's earning $8MM with some incentives available for more. (Cashner almost certainly won't throw enough innings for his 2020 option to vest.) It's tough to imagine a contender viewing him as a big rotation upgrade after 70 1/3 innings of 4.73 ERA ball on the heels of a poor 2018 showing, but he could function as a fill-in piece down the stretch. Much more intriguing is the possibility of moving Cashner into a flexible relief capacity, as MLBTR's Steve Adams has argued. Cashner is sitting at 94 with his four-seamer and his change has become a weapon; perhaps he'll finally find his calling in a new-age role. The O's will probably have to eat money and won't be able to hold out for a huge return, but there ought to be some interest in a market that could end up being rather weak in rental pitching.
21-22. Dee Gordon (2B) & Mike Leake (SP), Mariners: Gordon is doing enough at the plate for his speed to play. His defensive metrics have faded but perhaps scouts still believe in the glovework. Leake is also still a useful player, tallying a 4.14 ERA over 95 2/3 innings despite allowing 2.07 homers per nine. Both are quite expensive, but the M's have already proven capable of sorting out the financials in deals involving Jay Bruce and Edwin Encarnacion. Leake's no-trade rights will play a role in his market situation.
23-24. Danny Duffy (Royals) & Jeff Samardzija (Giants), SP: Duffy is owed $15MM and change for this year and the two that follow; Shark is earning $18MM this season and next. Neither has been especially impressive this year, and both have shown velocity declines, but they're each functioning as capable starters who could be useful pieces this year and into the future. Their respective clubs will need to eat money and temper expectations on the prospect side if they're to make deals.