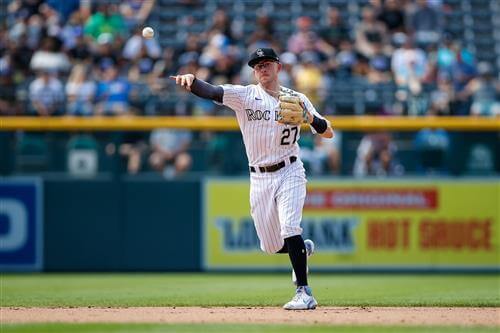 The Trevor Story era with the Colorado Rockies is coming to an end one way or another after this season, and plenty of teams are interested in his services before this month's MLB trade deadline.
But what's the best fit?
Story is currently having one of his worst years at the plate, hitting .243/.316/.423 with 11 home runs, 18 doubles and 43 RBI. His 84 wRC+ is also much lower than what he's posted over the past three seasons especially, when he averaged a 122 wRC+. Even with his down season, Story remains one of the best offensive shortstops in the game.
He might also be nothing more than a pure rental for a team, as Story is a free agent after this season. Since he's a shortstop, teams with the money to spend are going to be drooling over him and one would assume Story is going to command a huge contract. Maybe not Francisco Lindor money, but still huge. Thirty home runs a year, even out in Colorado, will do that.
Assuming the Rockies don't hang on to Story and give him a qualifying offer after the season that he will most certainly reject, where could he be going at the trade deadline?
Trevor Story Trade Destination #5: Seattle Mariners
I so badly wanted to put the San Francisco Giants here, what with their incredible record and Brandon Crawford's recent injury (the dreaded oblique strain), but there's something in my brain that keeps me from proposing in-division trades like these, even though the Giants and Rockies have dealt to each other in the past.
But I'm a big coward, so it's the Seattle Mariners instead, who are in contention for the AL Wild Card and are in desperate need of offensive help anywhere they can get it. J.P. Crawford is a Gold Glove shortstop currently enjoying a breakout campaign, but the Mariners are the worst offensive team in the Majors, so it only makes sense they'd at least kick the tires on this possible trade.
Trevor Story Trade Destination #4: Philadelphia Phillies
The Phillies love to be in the mix on seemingly everyone, but this deal does make sense if Philadelphia is sensing blood in the water in the NL East. Francisco Lindor is dealing with an oblique injury and Jacob deGrom currently has a forearm injury. The Phillies are only a handful of games behind in the division – if they really think they can take advantage of the moment and catch the Mets, it's not hard to see Philadelphia trading for Trevor Story.