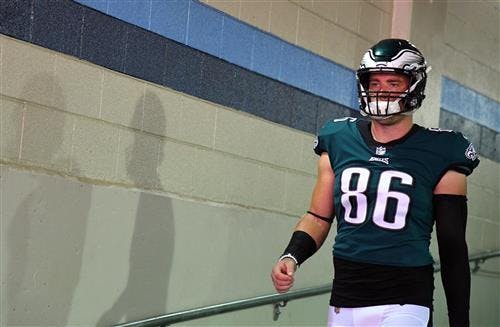 The Philadelphia Eagles are expected to part ways with Pro Bowl tight end Zach Ertz this offseason, which creates the fascinating topic of the teams that present the best fit for the dynamic pass-catcher in 2021.
Ertz presumably would want to go to a stable organization with a winning tradition, but even those qualifiers aren't a guarantee. Look no further than how far the Eagles have fallen since winning the Super Bowl only a few seasons ago or so.
Without further ado, let's take a look at some great destinations where Ertz could get a fresh start and be put in ideal position to revitalize his NFL career.
Zach Ertz to Indianapolis Colts
Colts head coach Frank Reich knows how to use Ertz. Indianapolis tight ends Mo Alie-Cox and Trey Burton are free agents. You'd be hard-pressed to argue Ertz wouldn't be an upgrade in Reich's system over either of those players, or incumbent prospective starter Jack Doyle.
Ertz's ties to Reich and the fact that the Colts have a massive amount of cap space to pay him makes this a match made in heaven. Indianapolis is the antithesis of Philly's chaotic organizational situation. General manager Chris Ballard has patiently put together a strong roster loaded with young talent — hence all the cap room. Reich is proving to be a magnificent head coaching hire heading into his fourth season at the helm.
The only thing that might scare Ertz off from Indy as a suitor is the unresolved quarterback situation. Philip Rivers retired, but he was only a stopgap option in the first place, so that wasn't the biggest shock. Nevertheless, it's a legitimate issue the Colts must address.
It's very possible Ertz's quarterback from Philadelphia, Carson Wentz, could wind up in a Colts uniform next season, which may help ultimately recruit him there. But no matter who's under center, Ertz has to believe Ballard and Co. have a plan as Indianapolis gears up to potentially take over the AFC South in the coming years.
Zach Ertz to Washington Football Team
If Ertz is really disenchanted with the way things are coming to a conclusion in Philadelphia, maybe he'd want to stick it to the Eagles by playing for a division rival like Washington.
The Football Team needs a reliable pass-catcher anywhere in their supporting cast. Logan Thomas is a rising stud at the tight end spot, but Ertz is a great mentor for the younger player — and an immediate go-to target for the quarterback.