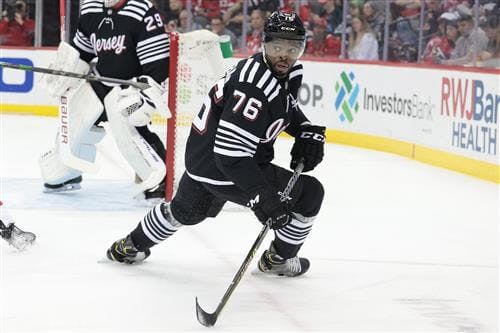 With the summer winding down and hockey season gearing up again, there are still many players who don't have a jersey to suit up in next season. Some are shocking, with speculation lasting all season long, and others (like Phil Kessel) could potentially be toying with retirement. But, with some big names left unsigned, here are the top five NHL free agents who still have not inked a contract.
Nazem Kadri
The Stanley Cup winner had a monster campaign last season, propelling his Colorado Avalanche to victory, but Nazem Kadri has yet to sign a new deal. He's likely to get a huge jump from his $4.5 million cap hit last year, but is reportedly holding out to sign with a Stanley Cup contender.
Kadri's long been linked to the New York Islanders, but could go to a few key destinations that could really usean offensive boost, turning them into cup contenders. By a long shot, Kadri had the most points last season of all the available free agents with 87 (Phil Kessel was second with 52), making him the most attractive–and probably coveted–signing this offseason.
Sonny Milano
Even on the rebuilding Anaheim Ducks, the American-born forward had a breakout season, playing alongside Trevor Zegras to create some of the NHL's prettiest, most memorable plays. Sonny Milano's proven he can be a valuable addition to any forward corps, can work well with offensive dynamos, and can make plays himself, even on a team that doesn't necessarily have strong offensive talent.
What's more, he likely comes pretty cheap (his cap hit last year was $1.8 million) and is young enough at 26 to be moulded into whatever a team may look for, making him one of the top NHL free agents this season.