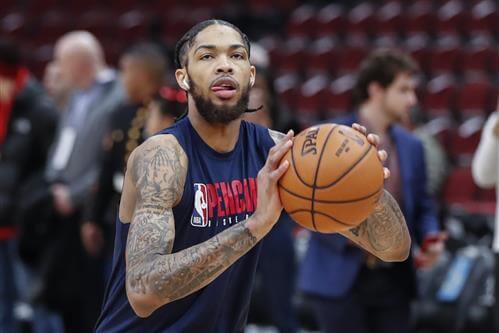 This 2020 FA class isn't as stacked as last year's phenomenal class, which was headlined by Kevin Durant, Kawhi Leonard, and Kyrie Irving; all superstar-level talents. This year's class is headlined by Anthony Davis (superstar), DeMar DeRozan (former perennial All-Star), and Brandon Ingram.
The latter of these headliners – Ingram, an emerging star, has put his team in a peculiar situation. Do they offer him the max? Do they simply watch his offers come in around the league and match whatever he accepts? Do they let him walk and look to build differently? Let's explore Ingram's possible destinations this upcoming off-season.
New Orleans Pelicans
The New Orleans Pelicans hit the post-Anthony Davis era in full sprint with the load of young talent they received in return for the star Big-Man. The team was expected to be in rebuild mode, but with the emergence of Ingram as an efficient lead scorer and Zion Williamson as a future superstar, this team was fighting for a playoff spot before this season hiatus. With that said, is this team built to win championships or simply be a perennial pretender? Matching any max offer for Ingram should be a cut-and-dried decision.
Ingram is proving to be a very good #1 scoring option as he averaged a fairly efficient 24.2 PPG this season. His numbers have dipped playing alongside Zion, down from 25.6 PPG and 6.7 RPG to 21.1 and 5.2 respectively (with shooting splits of 47.7/39.9/85.8 to 43.8/36.0/85.5). It is still a small sample size, and the Pelicans have gone 9-8 with the 2 players in the lineup together, which is a good sign for a team who was making a playoff push.
The Pelicans have a very young roster, mostly composed of rookie contracts; and the lone large contract they have can come off the books in 2 years (Jrue Holiday has a $27M player option in 2021). This team is set up to be big players in upcoming FA classes even if Ingram gets the max. Adding a star player alongside Zion and Ingram should be in play for the Pelicans in a few seasons.
Positives for Ingram: familiarity, maximized financial potential, ability to play alongside a potential superstar in Zion
Negatives for Ingram: not a big-name FA destination, not a seamless fit next to Zion
Atlanta Hawks
The Atlanta Hawks are in an interesting position. The will be heading into the 2020 offseason with the most cap space in the NBA. Their 2 best players (Trae Young and John Collins) are both on rookie deals and they just landed their potential future C (Clint Capela) at under $20M/yr for at least 3 more years. Even though the team just drafted 2 wing players (Cam Reddish and De'Andre Hunter), going after Ingram might just be the right move for them. Adding Ingram opens the Hawks up to be able to shop either Kevin Huerter, Reddish, or Hunter; whether individually, as a combo deal, or all 3.