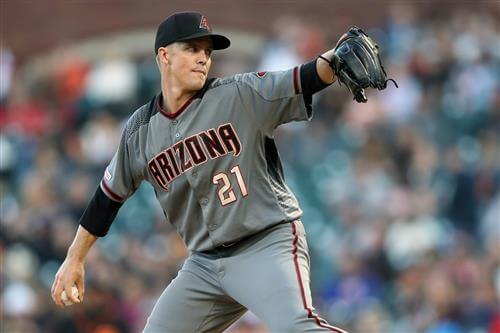 With Major League Baseball's trade deadline approaching, theScore's MLB editors break down the 20 best pitchers who could be moved ahead of July 31.
1. Zack Greinke, SP, Diamondbacks
Greinke has settled down after a really rocky start to the campaign and is putting together his best season since 2009, when he captured his only Cy Young. Omitting his first three starts, the veteran right-hander owned a 2.04 ERA and 2.74 FIP over 16 games before Sunday's stumble against the St. Louis Cardinals (five earned runs in six innings). His contract is a bit of an obstacle, as the 35-year-old is owed $70 million from 2020-21, but if the Arizona Diamondbacks are prepared to deal him, a team needing an ace could do worse than paying up for Greinke.
Probability of trade: 6/10
Potential suitors: Yankees, Cubs, Dodgers, Brewers, Braves, Astros, Cardinals
2. Noah Syndergaard, SP, Mets
Syndergaard is among MLB's best pitchers when on top of his game. Injuries have plagued the flamethrower, though, as he's thrown over 150 innings in a season only twice. The 26-year-old is on pace to eclipse the plateau but hasn't looked as sharp this year. His 23.4 percent strikeout rate is a career low and his 6.4 percent walk rate is a career high. If the New York Mets do opt to move him, they'll want premium pieces back since Syndergaard is arbitration-eligible through 2021.
Probability of trade: 2/10
Potential suitors: Padres, Brewers, Yankees, Astros, Braves
3. Trevor Bauer, SP, Indians
Long considered a bit of a bust due to his elite potential seemingly never coming to fruition, Bauer broke out in a huge way in 2018, finishing sixth in Cy Young voting after accruing a 2.21 ERA and 2.44 FIP. The 28-year-old has regressed a bit this year, struggling to suppress home runs. Any team trying to acquire Bauer will also have to take into account his desire to sign one-year deals for the remainder of his career once he becomes a free agent following the 2020 season.
Probability of trade: 5/10
Potential suitors: Yankees, Phillies, Rays, Astros, Brewers, Athletics, Cardinals, Cubs
4. Marcus Stroman, SP, Blue Jays
Stroman is one of the Toronto Blue Jays' biggest trade chips heading into the deadline. He leads the American League in ground-ball percentage and sits ninth in ERA. The diminutive 28-year-old, who isn't eligible for free agency until 2021, hails from Medford, N.Y., and has been linked to his home state Yankees.
Probability of trade: 9/10
Potential suitors: Yankees, Padres, Astros, Braves, Cardinals
5. Madison Bumgarner, SP, Giants
It's been an impressive 11-year stretch in the Bay Area for Bumgarner, but his time with the San Francisco Giants is up. The 29-year-old is a free agent at season's end and San Francisco is moving toward a rebuild. MadBum's been one of baseball's most consistent left-handers for nearly a decade and owns a sparkling playoff resume, which includes 2014 NLCS and World Series MVP honors.
Probability of trade: 10/10
Potential suitors: Yankees, Twins, Brewers
6. Matthew Boyd, SP, Tigers
Boyd is turning a lot of heads among opposing front offices during his breakout campaign. The 28-year-old ranks inside the top 10 in the AL in WAR, strikeouts, and WHIP while pitching for a very bad team in Detroit. What makes the left-hander even more attractive is that he's under team control through the 2022 season. It would take a lot for a club to pry Boyd away from the Tigers as the team is reportedly looking for impact prospects and/or at least one potential All-Star in return.
Probability of trade: 5/10
Potential suitors: Padres, Astros, Braves, Dodgers, Rays, Yankees
7. Robbie Ray, SP, Diamondbacks
If the Diamondbacks opt to completely capitulate, shopping Ray in addition to Greinke could be an option. The left-hander has failed to build on a breakout 2017 season, taking a step backward in his strikeout rate and walk rate while still allowing 1.29 home runs per nine innings pitched. The 27-year-old has one year of arbitration left and the whiff potential is tantalizing, but he may not bring back the prospect haul to make it worthwhile for Arizona.
Probability of trade: 3/10
Potential suitors: Astros, Rays, Yankees, Twins, Red Sox, Braves, Athletics
8. Felipe Vazquez, RP, Pirates
If available, there's no question that Vazquez would be the top reliever on the market. Over the past three seasons, the left-hander is the only closer with at least 10 saves and a sub-2.20 ERA, and he's converted 78 saves during that span. The Pittsburgh Pirates, currently hovering around .500, would reportedly want two of the Los Angeles Dodgers' top four prospects, so he won't come cheap. It's understandable since he's on an extremely team-friendly deal and is due a maximum of $33.5 million through 2023.
Probability of trade: 2/10
Potential suitors: Dodgers, Red Sox, Nationals, Braves, Phillies, Twins, Athletics, Rays
9. Zack Wheeler, SP, Mets
While Syndergaard could be difficult to lure from the Mets, Wheeler should be much more readily available. The pending free agent is coming off of a breakout season after being the top prospect in the Carlos Beltran trade back in 2011. By ERA, he has regressed a bit but the peripherals are strong, with better strikeout and walk numbers than last year.
Probability of trade: 10/10
Potential suitors: Yankees, Astros, Brewers, Padres
10. Kirby Yates, RP, Padres
Although the Padres enter the second half just two games back of a playoff spot, Yates' name continues to pop up in trade rumors. It makes sense since the All-Star right-hander's been the best reliever in baseball this year.