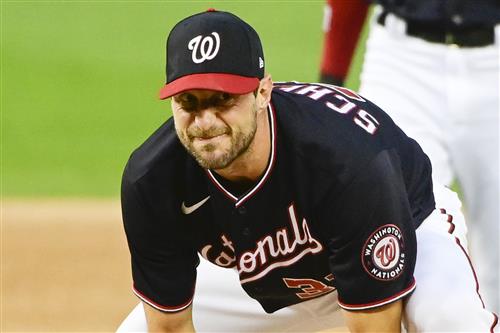 As much as fans of all teams in the playoff chase expect their clubs to make a big splash at the trade deadline, that isn't really the way things work. Most of the big trades in recent seasons come from strong teams looking to get stronger -- think Yu Darvish going to the Dodgers and Justin Verlander (in August) to the Astros in 2017, Manny Machado going to the Dodgers and Nathan Eovaldi to the Red Sox in 2018, or Zack Greinke to the Astros in 2019.
If we do get some big stars dealt this year before the July 30 deadline, I would expect the major players to be the Boston Red Sox, Chicago White Sox, Houston Astros, New York Mets and the conglomeration of teams battling in the NL West. We know the Philadelphia Phillies and New York Yankees will try to add some minor pieces and the Tampa Bay Rays always seem to have something in the works. The more difficult decisions, however, belong to some of the other teams that are currently outside the playoff picture but still in the hunt. How are the Cincinnati Reds, Atlanta Braves, Washington Nationals, Toronto Blue Jays and Seattle Mariners looking at things right now? Let's look at those five clubs.
Cincinnati Reds
Short history: After not making the playoffs since 2013 -- or even finishing above .500 -- the Reds dipped into free agency prior to the 2020 season for the first time in over a decade and signed Nick Castellanos, Mike Moustakas and Wade Miley (on top of trading for Trevor Bauer in 2019) to make a postseason push. They did squeeze into the expanded playoffs with a 31-29 record, but promptly scored zero runs in 22 innings in two losses to the Braves. After pushing all their chips forward in 2020, the Reds had a conservative offseason, losing Bauer in free agency and not making any big moves, instead hoping the offense would bounce from 2020's embarrassing .212 team batting average.
What's happened in 2021: They were five games under .500 after a 17-3 loss to the Phillies on June 1, but then won 11 of 13 to claw back into things, with Castellanos and Jesse Winker having All-Star seasons. They promptly lost four in a row in San Diego. They won three of four in Milwaukee right before the All-Star break, however, including handing Josh Hader losses in back-to-back games, to finish the first half four games behind the Brewers. They then lost their first four after the break, including three to the Brewers.
Biggest problem: The bullpen. At least the Reds have an easily identifiable issue. They're 29th in the majors in bullpen ERA, although a little better in win probability added at 19th. Still, they've shuffled through three closers, and the current guy, Heath Hembree, has allowed eight home runs in 32? innings.
Thinking big: Craig Kimbrel has been lights out for the Cubs and even has a $16 million club option for 2022, which would help alleviate the closer problem next season (assuming Kimbrel doesn't fall back into his bad ways). That's a pretty steep price for the Reds, but they could give the Cubs a better prospect if the Cubs include cash to pay down the rest of his 2021 salary.
Thinking small: Add a generic veteran reliever or two.
What they should do: Those three losses to the Brewers were crushing, turning that four-game deficit back to seven, and their odds of winning the NL Central, according to FanGraphs, dipping from 14.6% to 5.9% after the sweep. They also have just one series left against Milwaukee, so there are few head-to-head games to make up ground. The bullpen is still a mess. Michael Lorenzenreturned from the injured list on Saturday, pitched one inning, moved to the outfield, hurt his hamstring, and he is back on the IL. Lucas Sims and Tejay Antone are out until after the trade deadline. The Brewers appear slump-proof with Brandon Woodruff, Corbin Burnes and Freddy Peralta in the rotation. There are now rumors the Reds would consider trading Luis Castillo, who has a 1.76 ERA over his past nine starts. He's under team control through 2023.
Really, to catch the Brewers at this point will require more than adding a closer. They could trade for Kimbrel and Rockies shortstop Trevor Story and still be long shots, while hurting their farm system in the process. If the Milwaukee series had gone differently, the inclination to add would make a lot more sense. For an organization that needs to build from within -- don't expect owner Bob Castellini to dip back into free agency anytime soon -- trading prospects to improve your division odds from 5% to 7% or whatever probably isn't the route to go. Find some bullpen help, but don't but pay a steep price to do it, and definitely don't trade Castillo, as the Reds need him for 2022.
Atlanta Braves
Short history: Coming off three straight NL East titles and a tough loss in the NLCS in 2020 when they blew a 3-1 series lead, the Braves entered the season as favorites or co-favorites alongside the Mets to win another division title. They re-signed Marcell Ozuna as a free agent and signed Charlie Morton and Drew Smyly to bolster the rotation.
What's happened in 2021: They lost their first four games and haven't been over .500, getting there six times and then losing each time. There have been some injury issues -- Travis d'Arnaud has played just 23 games, Ozuna broke two fingers (and then was arrested on domestic violence charges), Mike Sorokare-tore his Achilles and will miss the entire season, and then came Ronald Acuna Jr.'s devastating season-ending torn ACL. There has also been some lack of production on offense after the Braves had a powerhouse lineup in 2020. Ozuna and d'Arnaud weren't hitting, Cristian Pache was expected to man center field and instead hit .111 to earn a trip back to the minors, Dansby Swanson is down from last year and reigning MVP Freddie Freeman got off to a slow start.
Biggest problem: The bullpen. Entering Tuesday, the Atlanta bullpen was 11-22 with a 4.64 ERA -- only the pitiful Diamondbacks had more bullpen losses. They're 2-7 in extra-inning games, so you know Brian Snitker is no fan of the ghost runner rule. After Sunday's 7-5 loss to the Rays, when the pen allowed four runs in the seventh, Snitker was at a loss for words on how to get the bullpen turned around. "I don't know. I don't know, honestly. It's just guys getting outs, honestly. I don't know. Guys we're using have been guys who've helped us to be where we are. I don't know. Honestly, I really don't know."
Honestly, that sounds like a manager who wants a couple of new relievers.
Acuna's injury obviously created a hole in the outfield and Alex Anthopoulos moved quickly to acquire Joc Pederson from the Cubs and catcher Stephen Vogtfrom the Diamondbacks. Still, without Acuna and Ozuna, an outfield of Pederson, Guillermo Heredia and former Brewers shortstop Orlando Arcia in left hardly feels like one that will lead you to a division title. On top of that, Ian Anderson is now out for at least the next week with right shoulder inflammation.
Thinking big: Obviously, improve the bullpen. Kimbrel could be the answer here, although Pittsburgh's Richard Rodriguez is more payroll-friendly with a $1.7 million salary. He'll also cost more than Kimbrel in prospect capital since he's under team control for two more seasons. Ian Kennedy is a possibility, as is Seattle's Kendall Graveman.
Winning the division is one thing, and that could happen with the current roster and an 85-win team. Building a team that can win the World Series is something else, and the Braves probably need another outfield bat to do that. Miami's Starling Marte is a perfect fit here and Kris Bryant could work, too.
Thinking small: They already made two deals, and that might be it.
What they should do: Look, the division is obviously winnable, and the Mets suddenly look more vulnerable with Jacob deGrom and Francisco Lindor both landing on the IL in recent days. I get that the Braves might justifiably view this as "just not their year" and if they fall another two or three games back by July 30 might actually end up trading players away -- Morton would be one of the most sought-after starting pitchers given his track record in the postseason, and they could also deal Pederson and Smyly. I'd play it down the middle and try to add a reliever like Rodriguez who can help you after 2021. If you're two or three games back, go all-in and see if you can get Marte. There is talent here to make a run in October, with a potential playoff rotation of Morton, Max Fried, a healthy Anderson and a healthy Huascar Ynoa, who was pitching well before breaking his hand punching a dugout bench in May.