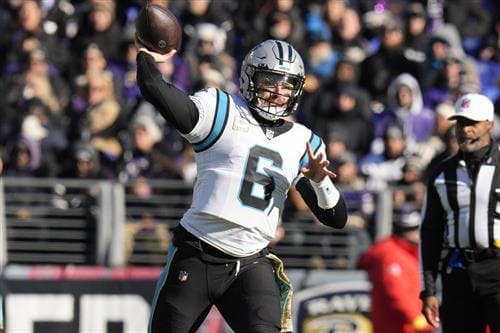 In quite a surprising turn of events, the Carolina Panthers are dumping Baker Mayfield. Ian Rapoport broke the news on Monday that Carolina was outright releasing the former No. 1 overall pick, apparently reconsidering the state of the team during their bye this past week.
Mayfield is now going to hit the waiver wire, and the team that claims him will owe him only $4.25 million, according to Pro Football Talk. Not a very high price considering he was owed north of $15 million this season. So that makes him an attractive buy-low proposition for the last month or so of the season. However, Mayfield's sudden release is pretty weird and there's a chance teams hold off on claiming him until they dig deeper into why Carolina decided to cut him outright with only six games to go.
Regardless of how he finds his way to a new home, Mayfield will undoubtedly have a few suitors because there is always someone who thinks they can fix him. Here are a few possibilities for Mayfield, either through the waiver wire or free agency.
San Francisco 49ers
The obvious option that everybody will talk about today. The Niners just lost Jimmy Garoppolo for the season and will have to start rookie third-stringer Brock Purdy at QB the rest of the way. Unless they go after Mayfield. He doesn't know the offense like Purdy does but has the arm talent to make the sort of throws the 2022 seventh-round pick cannot. Presumably. And if anybody can fix whatever has plagued Mayfield over the last two years, it's Kyle Shanahan.