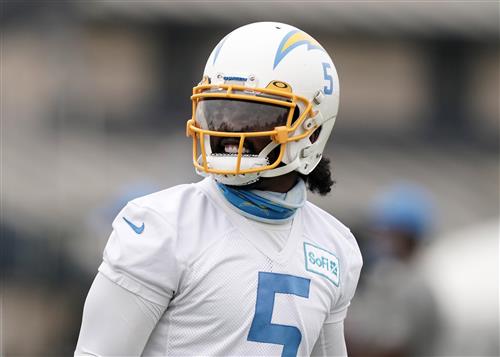 The Dallas Cowboys' 2020 season has gotten worse by the week, and Sunday was no exception with quarterback Andy Dalton -- who was already filling in for Pro Bowl starter Dak Prescott -- exiting a 25-3 loss with a concussion. Coach Mike McCarthy has already scolded his team for apparently failing to stand up for Dalton after he went down because of an illegal hit. And now the Cowboys are preparing to start seventh-round rookie Ben DiNucci in Week 8 when they visit the NFC East-leading Philadelphia Eagles in prime time.
If Dalton cannot clear concussion protocol in time for next Sunday's game, will Dallas actually roll forward with only DiNucci and 29-year-old journeyman Garrett Gilbert, who just signed this week, as the active QBs? It's possible. But there's a real case to be made that the Cowboys need to consider a move at QB regardless of Dalton's status. The ex-Bengals starter has struggled mightily himself while filling in for the injured Prescott, it's hard to say this will be the last time he gets banged up in 2020 playing behind the Cowboys' decimated offensive line, and it remains true that just a few more wins might actually win Dallas the porous NFC East.
Would the Cowboys be smart to give up valuable draft capital or a big chunk of salary cap space just to put a Band-Aid on what looks a lot like a fatal wound of a season? Probably not. But they'd be crazy not to at least think about these low-risk additions:
Ryan Fitzpatrick
It makes too much sense. If bare-minimum competence wins you the NFC East, and if the Cowboys are still serious about doing that, this is their guy. Ryan Fitzpatrick is fresh off a decent run as a starter and beloved locker-room leader in Miami, but he was clearly hurt by the Dolphins' move to rookie Tua Tagovailoa, and he's got no long-term future there anyway. Think about it: He's a 37-year-old impending free agent, so he's far from an impediment on the inevitable Dak Prescott return in 2021; he's stayed durable and productive behind decimated O-lines before; and he's changed teams so often he'd pick up Dallas' system in no time. Even if Dalton is healthy sooner rather than later, why not let them compete and/or back up each other? Fitz would no doubt embrace one final shot at a starting gig, especially on America's Team, and his moxie would be a welcome addition to McCarthy's lifeless squad.