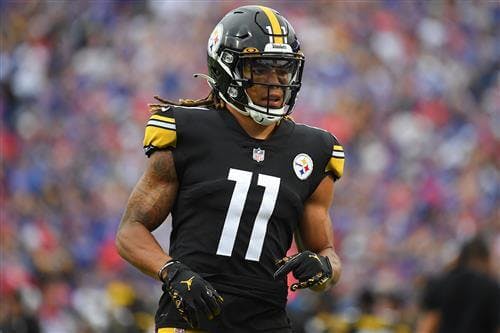 With the Pittsburgh Steelers in the midst of a rebuild, wide receiver Chase Claypool has had his name floated in trade rumors ahead of the NFL trade deadline. At 2-4, the Steelers are reportedly willing to listen to offers on Claypool in order to better position themselves to contend in the future. The 24-year-old is in just his third season in the league and could be a valuable addition for any team in need of a buff at wide receiver.
With Claypool potentially on the move, the former second-round pick should receive significant trade interest from teams in the coming weeks. If the Steelers are truly willing to move on from Claypool, there are various teams who need to be on the phone with Omar Khan as soon as possible.
This season, Claypool has been targeted 36 times, coming down with 23 catches for 225 yards and one touchdown. His yards per catch are down from 14.6 last season to just 9.8 in 2022. A move to some new surroundings could benefit Claypool while also helping the Steelers restock for the future.
Without further ado, let's dive into the best trade destinations for Steelers wide receiver Chase Claypool at the deadline.
3. New York Giants
The New York Giants' current wide receivers are more frequently discussed for the time they spend off the field than on it. That's a problem. Kadarius Toney has only played a total of 22 percent of snaps since being drafted in the first round in 2021. Meanwhile, Kenny Golladay still has not scored a touchdown in the first season-plus since signing a mega-deal with the team.