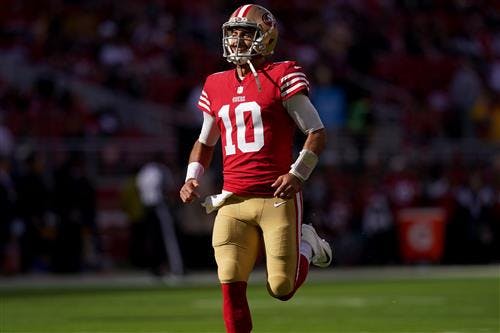 The arrival of Week 13 provides a little déjà vu in this space.
At this time last season, Jimmy Garoppolo's future in San Francisco was in question, prompting me to explore the quarterback's market for the 2022 NFL offseason. One year later, Garoppolo's still quarterbacking the 49ers, but his future remains a trendy topic.
Before assessing which teams should be in the market for the impending free agent, let's quickly review all that's happened over the past 12 months.
San Francisco, which had started the 2021 campaign at 3-5, rallied to win four of its last five regular-season games and snag a wild-card slot. In the postseason this past January, the 49ers hit the road to upset the Cowboys and Packers, relying heavily on a diverse ground attack and suffocating defense, with Jimmy G in more of a game manager role. In the NFC Championship Game at Los Angeles, Garoppolo threw a pair of touchdown passes, allowing San Francisco to enter the fourth quarter with a 17-7 lead over the NFC West rival Rams. But the home team scored the final 13 points of the game, clinching the win by picking off a desperation pass attempt from Garoppolo.
With San Francisco ready to hand the quarterbacking reins to Trey Lance -- the No. 3 overall pick in the 2021 NFL Draft who spent his first pro season as Garoppolo's backup -- Jimmy G looked like a probable trade chip heading into the offseason. March shoulder surgery certainly didn't help Garoppolo's market, especially given the QB's $26.95 million cap number, but the Niners still excused him from mandatory minicamp. In fact, the team reportedly didn't even give him a playbook. But with San Francisco still struggling to find a reasonable trade partner in late August, the 49ers restructured Jimmy G's contract into a one-year, incentive-laden deal that made him the highest-paid backup QB in the league. This late twist ultimately saved San Francisco's season.
After Lance suffered a season-ending ankle injury in Week 2, Garoppolo was thrust back into the QB1 role. Since retaking the reins, he has posted a 6-3 record, completing 67.4 percent of his throws while posting a sparkling 16:4 touchdown-to-interception ratio. With a marquee matchup on tap against the explosive Dolphins this coming Sunday, the 49ers sit atop the NFC West at 7-4. During San Francisco's current four-game win streak, Jimmy G has thrown seven touchdown passes and -- most importantly -- zero interceptions.
"I think Jimmy's doing a great job," Kyle Shanahan told reporters after Garoppolo logged four TD passes in the 49ers' Week 11 beatdown of the Cardinals in Mexico City. "I think Jimmy always has. When Jimmy's been healthy out there, we've had our guys around him, I think he plays at a very high level. And I think he did that today as good as he has. Very fortunate to have him."
Now, Garoppolo's restructured one-year deal includes a clause that precludes San Francisco from applying the franchise tag on the quarterback after this season. Consequently, no matter how far the suddenly-surging Niners go in the remainder of this season, Jimmy G is poised to hit free agency in March.