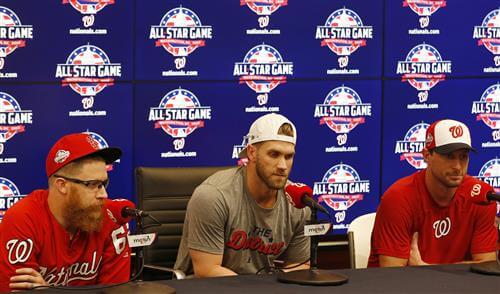 The seating chart said it all.
It was the Sunday before the Sunday before the All-Star Game, and the Washington Nationals were holding a news conference. On a podium deep within the bowels of Nationals Park, the three players who were voted into the Midsummer Classic sat behind a long table and fielded questions from reporters.
On the right was Max Scherzer, the two-time defending Cy Young winner whose dominant first half makes him a favorite to be the starting pitcher for the National League in front of his hometown fans. On the left was Sean Doolittle, the bearded southpaw who hasn't walked anybody in three months and has been as good as any closer in the game. In between Scherzer and Doolittle, in the chair that was literally the center of attention, sat Bryce Harper.
Given the year that Harper is having so far, he had no earthly business being the man in the middle. Relative to Scherzer and Doolittle, he is Washington's least deserving All-Star, and it's not particularly close. Yet there he sat, the clear focal point in a roomful of lenses and microphones and eyeballs. This was, after all, supposed to be Bryce Harper's All-Star Game.
Ever since 2015, a season that started with commissioner Rob Manfred announcing that Washington would host the 2018 festivities and ended with Harper being named the youngest unanimous MVP ever, this was meant to be his All-Star Game. In the middle of that MVP campaign, Harper announced that he would abstain from the Home Run Derby until the Midsummer Classic descended on the District, which only served to make the 2018 ASG seem even more like his baby. The fact that the former top overall draft pick is poised to become a free agent after this season at the tender age of 26 didn't hurt, either. But a funny thing happened on the way to the Bryce Harper Summer Invitational. Actually, two things: