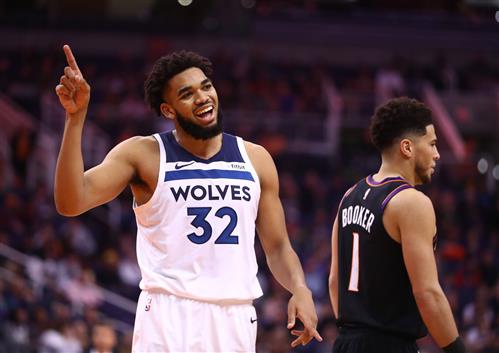 What a year it has been for the Phoenix Suns. They have shown that they are legitimate by making a run to the NBA Finals. Moving forward, this will not change with their core in place.
Phoenix has shown great depth and star power over the course of its playoff run. These are both necessary when attempting to win a championship. Devin Booker has been one of the league's best scorers for quite some time now but has never been able to show it off on the biggest stage.
The addition of Chris Paul took the Suns to that next level and they could ion to stay there with an offseason trade. After going down in the NBA Finals, the front office could look for another big move.
The Minnesota Timberwolves will be mentioned in many deals this offseason. That is obvious given the fact that they have been near the bottom of the Eastern Conference for years now. It is time to make some serious changes to the personnel in Minnesota and it could begin with Karl-Anthony Towns.
The All-Star caliber big man is signed to a lucrative contract and the Timberwolves have been unwilling to move him. That could change at some point.
The Timberwolves have a chance to completely retool the lineup using some big names. Here is a deal that will move Towns to the Suns following the postseason.
Phoenix Suns Receive: C Karl-Anthony Towns
Minnesota Timberwolves Receive: C Deandre Ayton, F Jae Crowder, F/C Dario Saric, 2023 first-round pick swap, 2024 first-round pick, 2026 first-round pick (top 5 protected)
The Phoenix Suns have a good thing going right now and Karl-Anthony Towns could be that next big addition. He was a teammate of Devin Booker's at Kentucky and they could reunite in a deal like this.
Towns would bring star power to the frontcourt of the Suns moving forward. He would form a one-two punch for the long-term alongside Booker. Assuming that Chris Paul were to stay with the team, Phoenix would have a short-term trio that could rival just about any.
If Towns is moved, Deandre Ayton would have to be part of the package to replace him in Minnesota. Ayton has improved drastically with Paul running point. Jae Crowder and Dario Saric, along with some future draft assets.